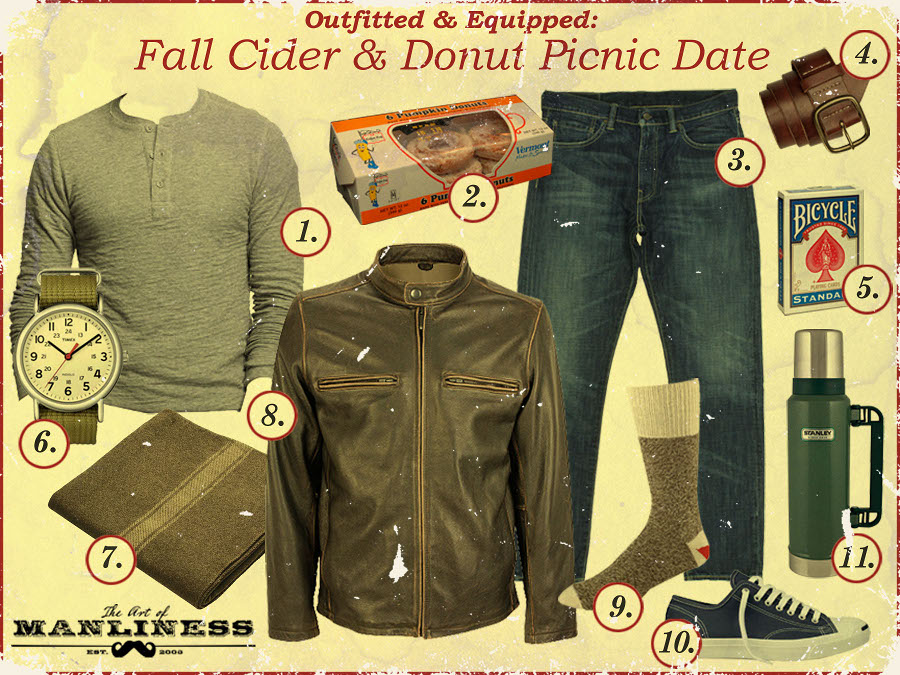 A few of my favorite men's lifestyle blogs have been doing a fun series where they offer a suggested get-up or outfit based on a theme. I really enjoy them and have been wanting to do something similar —  I'm calling ours "Outfitted and Equipped."
We've done a few illustrated guides on what to wear to certain events, which are handy for providing some general guidelines, but I think it's nice to see concrete examples of outfits, along with what to bring to the shindig as well. Outfitted and Equipped also gives me a chance to show the kind of things I personally wear and enjoy.
But to be clear here — I'm not saying you have to buy these exact things! It's just a gallery of inspiration for what to get together for different outings. Don't read too much into it  — it's just for fun! (Sad I have to make such a caveat, but people always do!)
Outfitted & Equipped: Fall Cider and Donut Picnic Date
1. L.L. Bean Double Layer Henley
2. Donuts (definitely cake, and preferably pumpkin spiced)
3. Levi's® 508 Regular Taper Jeans
5. Bicycle® Standard Playing Cards (for a few rounds of gin rummy with your gal)
7. Swiss-Link Italian Wool Army Blanket
8. Black Rivet Cycle Jacket from Wilson Leather
9. Original Rockford Red Heel Socks
10. Jack Purcell Canvas Sneaker by Converse
11. Stanley Thermos (filled with hot apple cider)
Graphic design by Ted Slampyak 
How would you outfit and equip yourself for a fall date? Share with us in the comments.
Last updated: October 10, 2017