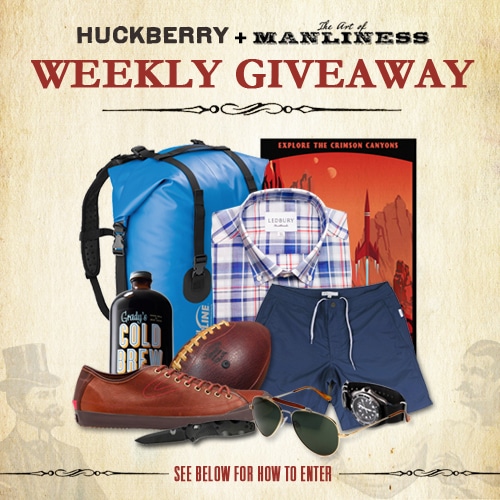 Well our first weekly Huckberry giveaway was a gig hit! Over 2,000 of you entered to win something from the Huckberry shop. There were definitely a lot of drool-worthy items last week. The lucky man who walked away with the prize was:
Xander Lynn from Bunnell, FL. Xander will be receiving a pair of Peter Nappi Julius Chocolate boots ($695), courtesy of the gents at Huckberrry. Whoo-ee! Enjoy your new boots Xander and please keep us posted as to how it feels to wear seven hundred dollars on your feet.
My Picks This Week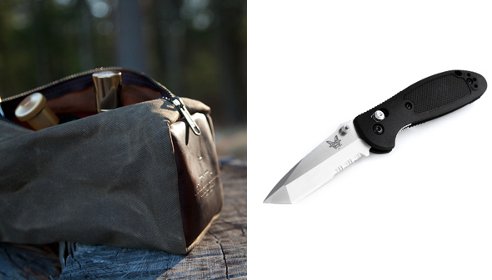 My favorite items this week are a couple of things that were added to the Huckberry General Store (the line-up of which doesn't change as often as the main store's does). There's a great Benchmade knife in there, as well as a really nice, Made in USA waxed canvas dopp kit from Buck and Ball. In the main store there's a neat valet-type thing where you can keep your phone/wallet/keys…might be good for the man who was inspired to start using one after we suggested it in this week's post about how to be punctual!
How to Enter the Giveaway
The Prize
Any item currently available in the Huckberry Store. Be sure to check out the current line-up of items as it changes every week.
How to Enter
1) Leave a comment sharing what you'd like to win
Sign up for Huckberry to gain access to their  store. You have to sign up because the store and the discounted prices are not available to the public. Just so we're clear, if you sign up for Huckberry, you're opting into receiving weekly emails from Huckberry on their exclusive deals. You can unsubscribe anytime you want.
Take a look around, pick one item you'd like, and leave a comment on this post sharing your selection.
Deadline to enter is July 26, 2012 at 5PM CDT.
We'll then draw one random comment to select the winner. This lucky gent will get item they selected and shared in the comments.
Last updated: July 26, 2012