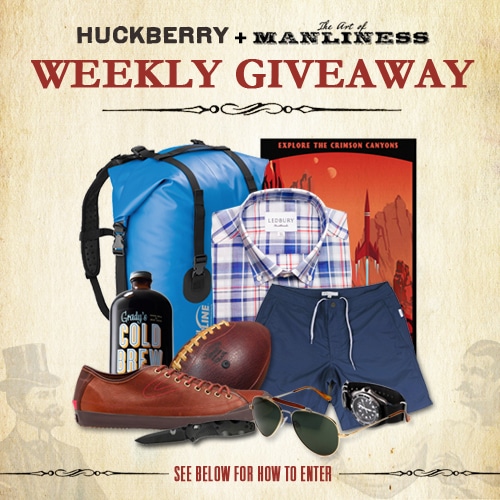 Over the last year, we've been partnering with Huckberry as affiliates. We're pretty picky when it comes to our partnerships, but choosing to work with Huckberry was an easy decision. If you haven't checked them out yet, Huckberry is a membership deal site, which negotiates limited-time sales and discounts to its members, up to 60% off what you would normally pay. There are a lot of membership-deal sites out there but Huckberry is the only one I like. They target both outdoorsy and urban guys, feature both clothes and gear, and the companies they partner with offer products that are less foo-fooey, upscale, and more rugged, casual, and unique. Stuff that's very often Made in America too.
The products Huckberry offers change every single week, and it's always a lot of fun to see the cool things they put in the weekly line-up. The guys at Huckberry always let me pick something from the line-up for myself, which to date may be the best perk of running this blog. I was thinking this week that it would be fun to extend this perk to our readers by offering a weekly giveaway on any one item from that week's offerings. The fine gents at Huckberry agreed, so let's get started!
The Prize
Any item currently available in the Huckberry Store
How to Enter
1) Leave a comment sharing what you'd like to win
Sign up for Huckberry to gain access to their  store. You have to sign up because the store and the discounted prices are not available to the public. Just so we're clear, if you sign up for Huckberry, you're opting into receiving weekly emails from Huckberry on their exclusive deals. You can unsubscribe anytime you want.
Take a look around, pick one item you'd like, and leave a comment on this post sharing your selection.
Deadline to enter is July 19, 2012 at 5PM CDT.
We'll then draw one random comment to select the winner. This lucky gent will get item they selected and shared in the comments.
Last updated: July 20, 2012