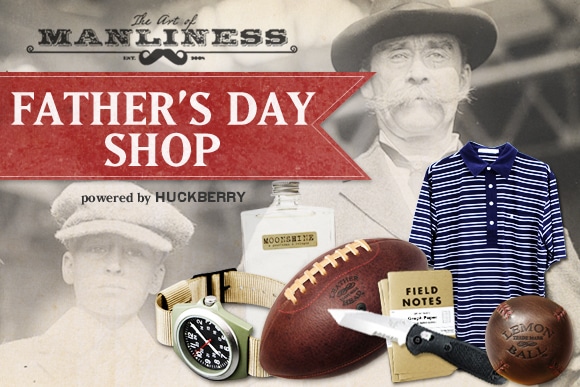 Father's Day is in two weeks and that means it's time to go gift shopping for dear old dad (or if you're a dad, it's time to start dropping hints on what you want). Instead of the usual tie or coffee mug, why not think outside the box this year? To help you pick out a uniquely manly gift for dad (or for yourself), we've teamed up with the gents at the membership-deal site Huckberry to create a Father's Day Gift Shop filled with stuff that will make dad grin from ear to ear this June 17.
I picked the items to include in the store and the gents at Huckberry worked with the companies to get a special discount just for AoM readers who sign up as a member of Huckberry. We've got over 20 items in the shop and in some cases you can get up to a 30% discount off of the retail price. My favorite item in the shop? Moonshine Cologne made by AoM's resident chef Matt Moore and his friends. Stuff smells great. There are also a few of our Art of Manliness t-shirts in there too.  The store is open from today until June 12th and all items are guaranteed to arrive before Father's Day.
To help kick off the Day of Dad, we want to give one AoM reader their pick of any item in the Art of Manliness x Huckberry Father's Day Gift Shop. To find out how to win, keep reading.
How to Enter the AoM x Huckberry Father's Day Gift Shop Giveaway
Just Leave a comment sharing what you'd like to win
Sign up for Huckberry to gain access to our exclusive store. You have to sign up because the store and the discounted prices are not available to the public. Just so we're clear, if you sign up for Huckberry, you're opting into receiving weekly emails from Huckberry on their exclusive deals. You can unsubscribe anytime you want.
Take a look around the AoM x Huckberry Father's Day Gift Shop, pick one item you'd like for yourself or for dear old dad, and leave a comment on this post sharing your selection.
Deadline to enter is Thursday, June 7, 2012 at 11PM CST. 
We'll select one entry at random to determine our winner.
Good luck!
UPDATE: Deadline to enter has passed. Winner will be contacted shortly.
Last updated: June 7, 2012