PSA: Mother's Day is next Sunday. Have you thought about what you're going to get the moms in your life for the day we honor motherhood? If not, we've got you covered.
Huckberry, the manly membership deal site, has teamed up with two artisans in California–the typewriter-toting poet Zach Houston, recently profiled on NPR and Jaynelle St. Jean, the pie-wizardress behind Pietisserie–to help to create the ultimate Mother's Day Gift: a pie + a poem.
The idea is simple but brilliant: you tell Huckberry what's unique about your mom and Zach the poet will use the details to write a custom poem for her on his Swiss-made, green 1968 Hermes Rocket typewriter.
Huckberry will then package the poem in an artisan box that will also include two mini-pies of your choice from Jaynelle the pie lady, a flower, and a hand-stamped package with your name on it.
It's personal. It's unique. And your mom will love it.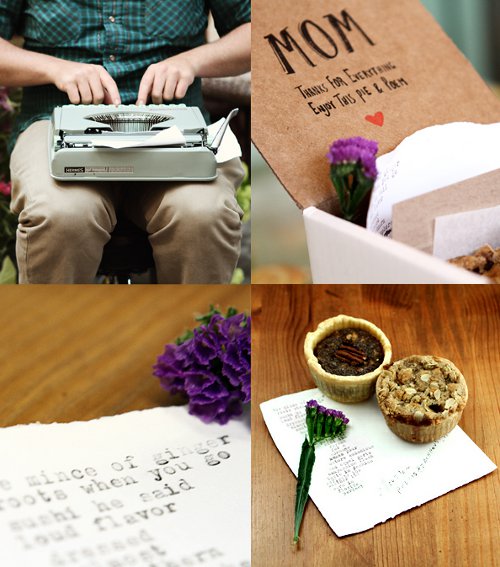 The pie + poem offer ends this Sunday, and supplies are limited, so you'll need to act quickly if you want to give this great gift for your own mom or the mother of your children. (It's only $35! Way better than a boring old $75 flower bouquet.) Sign up for Huckberry's membership site using this link to get an exclusive AoM $5 credit. [Update: Huckberry has now sold out of all available pie + poem sets. The giveaway will still be open until tomorrow though and hopefully we'll do this again next year.]
In the meantime, we're giving away one Mother's Day pie + poem package to one lucky AoM reader. To enter, simply share something you love about your mom (or your significant other if she's a mom) in the comments. We'll pick one random comment as the winner. The deadline to enter is Sunday, May 6, 2012 at 11AM CDT. It's a short contest, so no dilly dallying!
Last updated: May 6, 2012