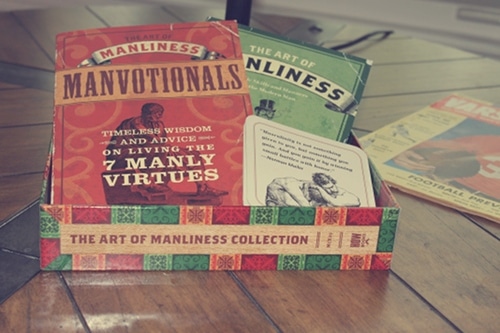 Last week we announced the launch of the Art of Manliness Collection Boxed Set. It's our two books in a cigar box along with six manly coasters. 1,700 of you entered to win this box-o-manliness, but there could only be one winner. And the winner is…
Matthew Weatherford from Spring, Texas

Congratulations, Matthew!
If you didn't win, you can still pick up a set from our publisher's site or from Amazon.com
Amazon Preorder Update & What We're Going to Do to Make It Up to You
Many of you have been emailing, Tweeting, and Facebooking me asking about the status of your Amazon order. On the announcement post, we told you that the set was actually releasing March 30 and not May 2 as Amazon listed. We got this information from our publisher.
While I was acting on the best information I had, I'm very sorry to say we gave you the wrong date. The set is indeed not releasing until May 2. It was a miscommunication between ourselves and the publisher. Unfortunately, some of you who pre-ordered a set need it now because you were planning on giving it as a birthday or wedding gift in April.
For those of you who pre-ordered a boxed set and need it sooner rather than later, here's what you can do:
1) Order a set directly from our publisher for $22.19. The publisher's warehouse is fulfilling and shipping orders right now.
2) Cancel your pre-order with Amazon. Amazon doesn't charge your card until your order ships. Because the boxed sets aren't shipping until May 2, you still have time to cancel without incurring a charge to your card.
I know this is a pain in the butt, but this is the only option we have available right now to get you your boxed set ASAP.
Everyone Who Pre-ordered a Book Set Gets a Free AoM Poster
We feel terribly about letting you guys down on this. Your trust is our biggest priority, and we want to try to make things right. To make up for the inconvenience that this pre-order snafu has caused, we're offering everyone who pre-ordered a boxed set in the past seven days (since March 29) a FREE Art of Manliness poster of their choice ($10 value). Shipping is on us. It's the least we can do to make up for this mistake.
To claim your free poster simply follow these directions:
1) Forward your Amazon receipt to [email protected]
2) Tell me which poster you want: 1) Man in the Arena or 2) If
3) Let me know me where to ship it.
Again, we're very sorry for this. Thank you for your continued support of the Art of Manliness.
Semper Virilis,
Brett