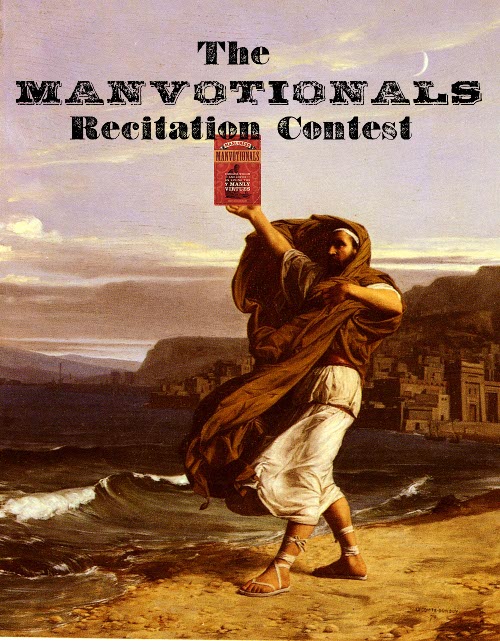 Last November we published our second book: The Art of Manliness Manvotionals: Timeless Wisdom and Advice on Living the 7 Manly Virtues. The book is a collection of the best advice ever written down for men. From the philosophy of Aristotle to the success books of the late 19th and early 20th centuries to the speeches and essays of leaders like Theodore Roosevelt and Winston Churchill, Manvotionals contains the manly wisdom of the ages–a myriad of poems, quotes, and essays designed to inspire men to live life to the fullest and realize their complete potential as men.
While some of the selections in Manvotionals are best read silently, many are better enjoyed and experienced audibly. They were meant to be spoken aloud and were written in a time when people enjoyed nothing more than to sit around with friends and family, listening to each other take turns reciting their favorite poems and bits of literature.
Nothing stirs the soul like lines of epic poetry or a great speech being read manfully and with real vigor. And this is where you come in, dear reader.
We're calling on YOU to help us bring to life the words in Manvotionals. 
The Manvotionals Recitation Contest
On AoM, we've talked a lot about the art of rhetoric and the importance of oratory. It's one of those classic skills great men from history devoted themselves to developing. And now here's your chance to work on and display your prowess in the rhetorical canon of delivery.
We want you to upload a video to YouTube of yourself reciting your favorite selection from our book, The Art of Manliness Manvotionals. 
Want an example of what we're looking for? Here's Dennis Hopper reciting If by Rudyard Kipling (found on page 37 in Manvotionals) on "The Johnny Cash Show" back in 1970:
Slow clap. My mustache just grew another 2 inches.
We want you to do something similar, but you can pick whichever selection you like best from Manvotionals. Get as creative as you want with your recitation. If you're reciting Teddy Roosevelt's "Man in the Arena," dress up like Teddy and ride a moose. If that's not your style, sit in your worn leather chair by the fire drinking a glass of scotch while the words of Henry Wadsworth Longfellow roll off your lips. Or just simply sit in front of your computer's webcam without any props or special effects and bellow out the philosophy of Seneca in your manliest voice.
The Prizes
Yeah. You really have to put yourself out there for this contest. For some of you, the thought of uploading a video of yourself reciting a famous speech to YouTube already has you shaking in your long johns. But fortune favors the brave, my friend.
The winner of the Manvotionals recitation contest will be walking away with this epic prize package: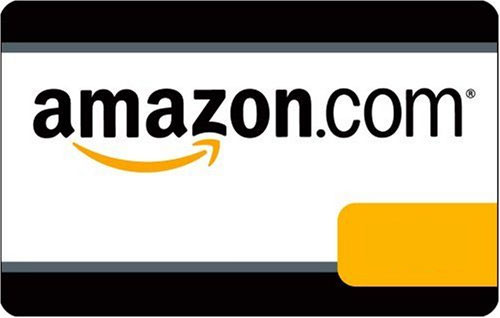 To assist you in your quest to acquire the manly wisdom of the ages, we will provide the winner of the contest with a $50 gift card to Amazon. Use it fill your library with books from our AoM approved book lists or other edifying books. Or you can buy this sledgehammer. We don't care. You're a grown man. Spend your gift card however you want.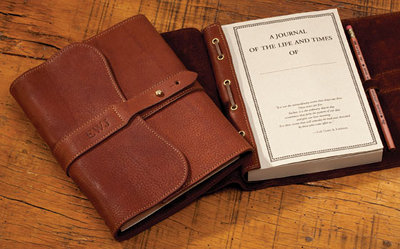 A man needs a place to write down the deep, manful thoughts that come to him while reading Manvotionals. A run-of-the-mill spiral notebook simply isn't worthy of such prose. You risk that your immortal writings will be confused for common ephemera and thrown out with yesterday's junk mail.
You need something with distinction, gravitas, and the ruggedness to be passed down to your progeny. The Col. Littleton No. 9 Journal fits the bill. Wrapped up in rugged steer hide, the No. 9 Journal is the perfect place to record your life happenings and philosophical ponderings.
Value: $145
Large Saddleback Leather Briefcase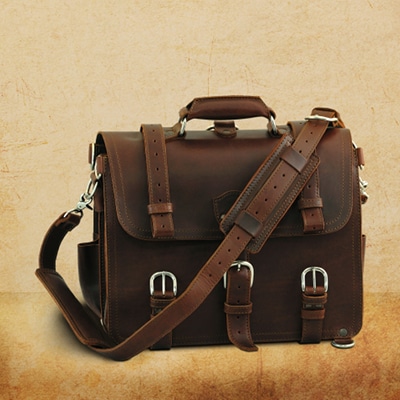 The bag that needs no introduction. Manvotionals can help you carve out a path in life. The Saddleback leather briefcase can hold the supplies you'll need for your adventures along the way.
Value: $555
How to Enter
Here's how to get your hands on this awesome prize package. Follow these rules carefully lest you be struck down.
1. The source material of your recitation must come from The Art of Manliness Manvotionals. Your selection must come from The Art of Manliness Manvotionals. You can recite the whole selection found in the book, or an excerpt from a selection found in the book. If you don't have a copy of Manvotionals, buy one or borrow it from a friend or from your library.
2. Upload a video of yourself reciting your Manvotional to YouTube. Once you've picked what you want to recite, have your wife, friend, or pet honey badger record you reciting your Manvotional and then upload it to YouTube.
3. Title your video "Manvotionals:" followed by your subtitle. Example: Manvotionals: The Village Blacksmith
4. Tag your video with "Manvotionals" and email us a link to your video. After you've uploaded your video, let us know! First, tag your YouTube video with "Manvotionals." Then email us a link to your video using our contact form. If you don't do this step, you're not entered in the contest.

5. Only one submission per person! You only get one shot at this, so pick your best recitation. If you submit more than one submission, you'll automatically be disqualified altogether. Only one!
Deadline to Enter
The deadline to enter is February 19, 2012 at 12 AM CST. That gives you three, count 'em three, weeks to create your masterpiece.
Selecting a Winner
Entries will be judged both on the quality of the recitation and on the creativity of the video. After we receive the videos, we will pick our favorite entries and post them on the site. Starting February 20, 2012 and running until February 27, 2012 voting will be open to the public at The Art of Manliness website. The recitation video with the most votes by February 27 at 10:00 pm CST will be named the winner.
What are you waiting for? Start your reciting and recording today!

NO PURCHASE NECESSARY.  CONTEST OPEN TO LEGAL RESIDENTS OF THE 50 UNITED STATES (INCLUDING DC). MUST BE 18 YEARS AND OLDER.  ENDS 02/27/12.    VOID WHERE PROHIBITED.  BY SUBMITTING YOUR VIDEO, YOU GRANT AOM THE NON-EXCLUSIVE RIGHT TO USE IT FOR PROMOTIONAL PURPOSES ON THEIR SITE AND OTHER PLATFORMS LIKE FACEBOOK.COM/ARTOFMANLINESS. BASICALLY, YOU MAINTAIN THE COPYRIGHT, AND YOU JUST GIVE US PERMISSION TO PUBLISH IT ON THE SITE. CAPECHE?
Last updated: May 19, 2014