The Art of Manliness Podcast #34: An Interview With Nick Offerman (AKA Ron Swanson)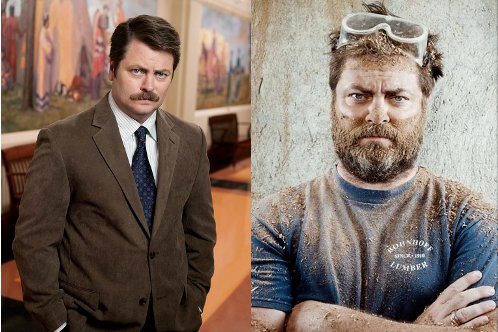 If you've been following the site, you know Kate and I are big fans of NBC's Parks and Recreation. We're especially fans of the character Ron Swanson on the show. Ron Swanson is the head of the Pawnee Parks and Rec Dept. in Indiana. He's a conservative libertarian who loves woodworking, breakfast foods, hunting, and fishing, and he keeps a sawed off shotgun in his desk. His Pyramid of Greatness is pure awesome. [1]
While Ron's idiosyncrasies bring humor to the show (as all the characters' quirks do), his manly ways aren't mocked for laughs in the way of other tv shows. The show has a sort of sweet, good-natured tone, which is why we like it.
What's interesting is that the actor behind the character, Nick Offerman, is pretty manly in real life, too. Nick's real passion is woodworking; he runs his own woodshop–the Offerman Shop [2]–where he builds tables, chairs, canoes, paddles and more. You can watch Nick talk about planking a canoe in this video:
A few weeks ago I got on the phone with Mr. Offerman to discuss what makes Ron Swanson so manly, and the greatness of mustaches and woodworking.
Listen to the Podcast!