A couple of years ago I started a custom Google Map that allowed people to find and add their favorite barbershops from all over the world, so that their fellow AoMers could check them out too. We called it the Art of Manliness Barbershop Locator.
It was one of our most popular features on the site and helped thousands of men rediscover the barbershop.
But the Barbershop Locator wasn't very user-friendly. Searching for a shop in your area was impossible. You just had to keep zooming in on the map in the area you wanted to find a shop. And don't get me started on adding barbershops. People couldn't figure out how to add them, and if they did figure it out, the shop sometimes didn't show up or showed up multiple times; it was a big headache for users and for me. We even had people add things that weren't barbershops at all, like Chuck E. Cheeses and strip joints. I have no idea how to explain that combo.
Suffice it to say that the Barbershop Locator was such a dysfunctional mess that I took it down a few months ago. During that time I got in contact with Tulsa web developer, Adam Brown, to help me improve the Barbershop Locator. He didn't disappoint.
Today, I'm proud to announce the re-launch of the new and improved AoM Barbershop Locator!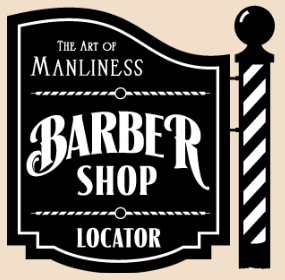 The New AoM Barbershop Locator: A Tour
We've maintained all the barbershops that we've collected over the years. Finding and adding a shop is just easier now.
Finding a Barbershop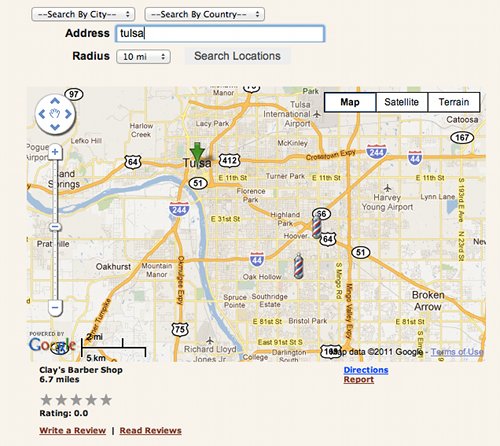 Finding where to get a clean shave and a sharp cut has never been easier. The new AoM Barbershop Locator is geolocation enabled so that it will immediately show on the map shops within a 10 mile radius of your current location.
If you want to expand your search, just enter an address, the radius you're willing to travel for a haircut and a shave, and hit enter. The barbershops will be displayed on the map as well as in a list below the map.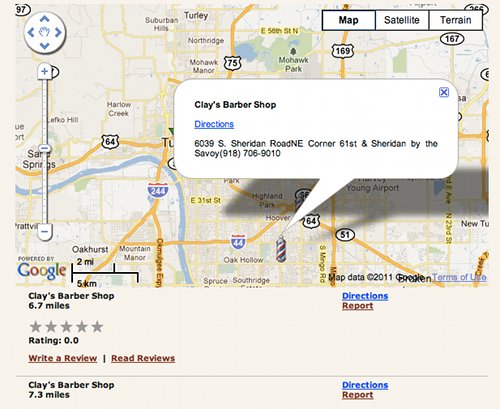 Click a barber pole icon for more info about the shop.
To get directions to the shop, simply click "Directions." A new tab will open up in your browser and give you Google Map directions to the shop from your current location.
Adding a Barber Shop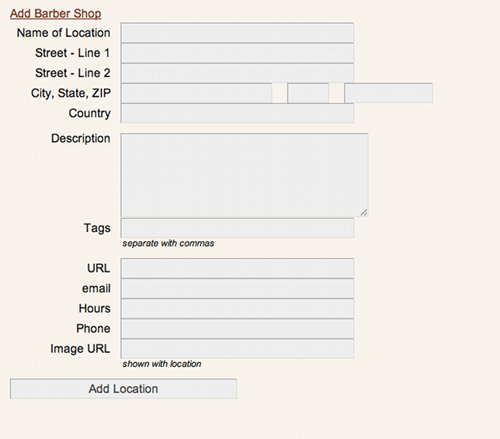 Know about a manly barbershop that's not in our locator yet? Help your AoM brethren by sharing it with them. Just click "Add Barber Shop" and fill in the information. Not all the information is required, but at least give us the name and address. Submissions won't show up until we approve them. This is to prevent the random Chuck E. Cheese and strip bar problem we had in the old locator.
Reviewing Barbershops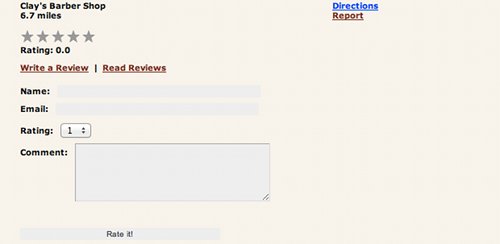 After you visit the shop, let others know about your experience by giving it a review. Simply provide your name, a 1-5 star ranking, and a few comments about the shop.
Helping Us with Quality Control
If you see that a barbershop has incorrect information, like an address or the hours of operation, click "Report" to send us an email with the problem you've found, along with the corrections.
Rediscover the Barbershop Today
Well, that's the tour. I hope you all find the new and improved AoM Barbershop Locator useful. It's completely FREE by the way. We made it for you guys to use and enjoy and to do our part in helping to bring back the manly barbershop tradition. We'll continue to make improvements to it so that you have the best experience possible. Now, what are you waiting for? Go find yourself a barbershop and treat yourself to a straight razor shave.
Last updated: November 14, 2011