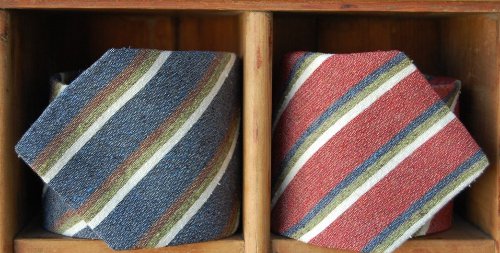 It's back! Our semi bi-annual Mountain & Sackett giveaway is here again. I love Mountain & Sackett ties. They're a family-owned business that's been making ties right here in the U.S. of A since 1957. And the quality of their ties can't be beat. Other companies use machines to pump out hundreds of ties an hour. The skilled craftsmen at Mountain & Sackett stitch their ties by hand, make only 5 an hour, and carefully check each piece for quality.
What's Up for Grabs
The winner of the giveaway will get to choose any one of Mountain & Sackett's ties (except from the Autism Speaks collection) as their prize. Need a narrow tie in your collection? How about a solid wool tie? And of course don't forget about the ties that Mountain and Sackett are famous for–their regimentals. These are the only 100% handmade regimental ties in the world. Cruise through Mountain and Sackett's collection and pick one out for yourself.
How to Enter
Entering is easy. Just follow these two simple steps:
1. Visit the Mountain & Sackett website and pick out the style and color you would like for your tie if you're lucky enough to be selected as the winner.
2. Share your selection with us in the comments section. You don't have to post the link-just a description. (Posting the link may cause your comment to be filtered as spam).
Everyone who enters the contest will be emailed a code for a 20% discount on Mountain and Sackett ties at the conclusion of the contest.
A winner will be drawn randomly from the entries. The deadline for entry into the giveaway is Monday, July 25, 2011 at 10 PM CDT.
What are you waiting for? Enter today!
PS-If you're looking for new ways to tie a tie, check out our videos on how to tie a tie.
Last updated: July 26, 2011