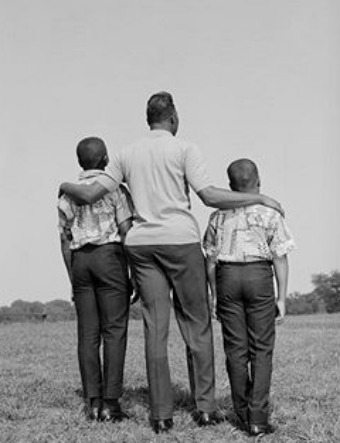 Maybe your dad is like mine. He's never been much for sitting me down for a formal meeting in order to dispense fatherly advice. Instead, he dishes it out in bits and pieces whenever the moment is right. I've racked up a catalog of these little tru-isms my dad has shared with me over the years. Yeah, a lot of them are cliche, but they've stuck with me because of the context in which they were imparted.
One that sticks out is the bit of advice my dad gave me after I totaled my first car. It happened just two weeks after I turned 16. Rear-ended a guy. Man, I took it hard. I didn't go to school for two days because I felt so sorry for myself. I had taken my first steps towards freedom and independence, but in a matter of seconds I was back to relying on my parents to haul me around.
In the middle of one my pity parties, my dad just told me, "This too shall pass."
And you know what? As simple as it sounds, his piece of cliche advice made me feel better. Now, whenever things get bad and I think they couldn't get any worse, I hear my dad's voice in my head saying, "This too shall pass." And it always does.
In honor of Father's Day and dads who dispense tru-isms about life, Char-Broil Grills wants to give one lucky AoM reader a Char-Broil Quantum® Infrared Outdoor Grill. Are you ready for a chance to win dad (or yourself) a present that knocks the socks off a "Kiss the Chef" apron? Keep on reading.
The Prize: Char-Broil Quantum® Infrared Outdoor Grill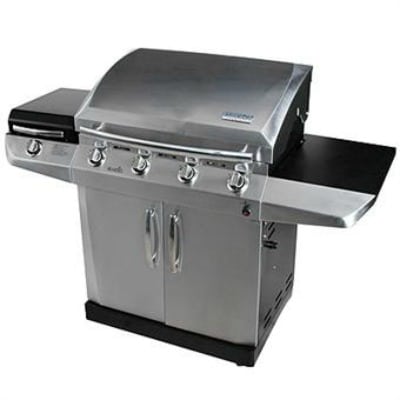 Char-Broil has been helping dads be king of the grill since 1948. Throughout its 63 year existence, Char-Broil has been a leader and innovator in outdoor grilling. Char-Broil's latest contribution the the world of outdoor grilling is their line of Infrared Gas Grills. Grills installed with Infrared technology allow grillmasters to cook at a wide range of temperatures with fewer flare-ups, all while using less gas. The result? Better tasting food, cooked efficiently and simply.
Char-Broil Grills wants to give one lucky Art of Manliness reader a Char-Broil Quantum® Infrared Outdoor Grill. This bad boy comes with four stainless steel burners that allow you to sear your steak with high,  intense heat or slow-cook a rack of ribs with a nice low heat. In addition to the main grill, the Quantum® Infrared Outdoor Grill comes with a Stovetop™ Sideburner, allowing you to cook things up in a skillet while you grill your meat. And getting the grill fired up is a breeze with Char-Broil's Surefire™ electronic ignition system. This is a $575 grill and one man is going to walk away with it for free.
How to Enter to Win a Char-Broil Grill
Simply leave a comment below sharing a tru-ism your dad has dispensed to you. You know. Those sage words of advice that fathers pass on to their sons about life while driving in the car, fishing, or grilling meat.
Deadline to enter is Tuesday, June 21 at 11:59PM CDT. We'll then randomly select one lucky winner. Enter today!
Last updated: December 18, 2015