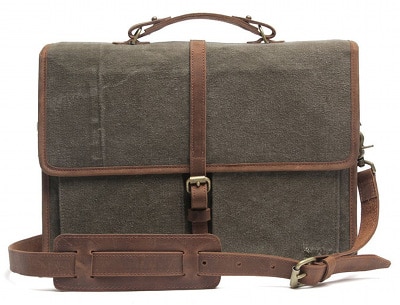 For a long time, if a man wanted to buy himself a handsome laptop bag, his choices were pretty limited. Boring, black nylon Dilbert-esque bags dominated the market. They seemed designed to make you depressed about your job before you even got to work.
Thankfully, several entrepreneurial men have stepped in to fill the need for a bag that's not only functional, but handsomely rugged as well. Erwin McManus, founder of Temple Bags, is one of these fellows.
Temple Bag's products are inspired by the heroism of the brave men who fought during WWII. The guys at Temple Bags scour dusty old warehouses around the country to find vintage WWII-era canvas and use this incomparably sturdy and manly material to craft their awesome laptop briefcases. The vintage canvas gives their laptop briefcase a nice worn, weathered look and a subtle military character. And because the canvas doesn't come from a single source, each bag will have unique coloring, markings, and weathering. Each bag is literally one of a kind! The briefcases are also made with real leather and other reclaimed materials like vintage Italian RiRi zippers. And the laptop briefcase, like all of Temple Bags' products, are handcrafted right here in the good old U.S. of A.
The Temple laptop briefcase doesn't just look good. It's also incredibly functional. A lot of thought was put into making the bag as useful as possible.
On the front of the bag you have two big pockets that have smaller pockets for your pens, your iPhone, and a pocket notebook. The main pocket of the bag fits a 15″ laptop and has a zippered opening not only on the top of the bag, but on the bottom as well, so you can access your laptop without undoing the buckle in the front. This bag will let you breeze through airport security like a pro.
You also have another nice big pocket to store books and documents. Within that large pocket is a sewed-in pocket for an iPad or Kindle that's accessible from the outside.
Here. Watch this. You have to see this bag in action to really appreciate how functional it is:
Pretty cool, right? Wanna get your hands on one of these awesome bags? Then read on.
The Temple Bags Laptop Briefcase Giveaway
were kind enough to offer one of their handsome laptop briefcases as a prize to one lucky AoM reader (a $478 value!). Here's how to enter to win:
Leave a comment below answering this question:
If you could be carrying this briefcase into your first day at any job in the world, what job would that be?
Deadline to enter is April 18, 2011 11:59 PM CDT. At the end of the giveaway, we'll select one comment at random and that lucky man will win a Temple Laptop Briefcase.
Looking forward to reading your comments!
Contest is over. We'll be announcing the winner on our sideblog The Trunk shortly.
Last updated: May 3, 2011