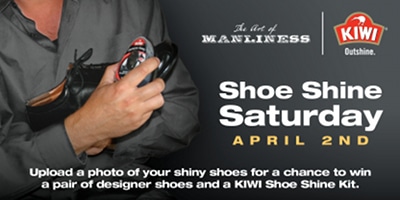 Last fall, we partnered with KIWI Shoe Care for our first ever Shoe Shine Saturday photo contest. We had so much fun with it that we decided to do it again!
Shoe Shine Saturday is about reviving the manly tradition of the monthly Saturday shoe shine. It's a day when the house fills with the warm, manly scent of shoe polish and leather as the quiet, repetitive activity of brushing your shoes settles your mind.
Beyond the romanticism of this manly ritual, a monthly Shoe Shine Saturday also has some practical and important purposes. First, making sure all your shoes are shined guarantees that when you get a last minute invitation to a formal gathering or a job interview, you're not rushing around, trying to shine your shoes and get to the shindig on time. Shoe Shine Saturday ensures that you're ready and prepared for whatever opportunities come your way.
Secondly, regular shoe shines help preserve your shoes' leather and protect them from the elements. A 15-minute time investment once or twice a month can keep your shoes looking brand new 30 years from now.
If you didn't give Shoe Shine Saturday a go last time, we're offering another chance for you to begin this manly tradition. To motivate you to take part, we've partnered with KIWI Shoe Care to kick things off with a shoe shining contest.
Shoe Shine Saturday Contest Sponsored by KIWI Shoe Care
To get you into the Shoe Shine Saturday swing of things, we're having a shoe shine contest beginning on March 26, 2011 and running through April 2, 2011.
To enter, take a picture of your shoes after you shine them. Show us just how shiny and smooth you can get those babies! Before and after pictures are encouraged. To submit a photo:
Step 1. Join the Art of Manliness Community.
Step 2. Take a picture of your shined shoes after shining them on Shoe Shine Saturday.
Step 3. Upload the photo to the Art of Manliness Community Photo Page.
Deadline to enter is Saturday, April 2, 2011 by 11:59:59 PM EST. You can upload your photos anytime before or on that day.
Entries will be judged on the quality of the shoe shine and the creativity and quality of the picture. Brownie points can be earned if your picture includes KIWI products. (Hey, they're sponsoring the contest!)
The Prize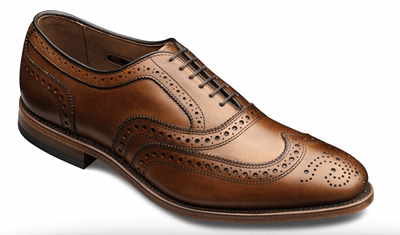 KIWI Shoe Care is giving away one heck of a prize to the winner of Shoe Shine Saturday: a pair of Allen Edmonds shoes and the Ultimate Shoe Care Kit.
Allen Edmonds has been crafting handsome and well-made men's dress shoes right here in the good old U.S. of A since 1922. These are some of the best shoes a man can buy; a pair of Allen Edmonds can last your whole life through.
The winner will get to pick any pair of Allen Edmonds shoes from the Allen Edmonds website, valued up to $350.
And, to help keep your new Allen Edmonds shined and well maintained so you can pass them down to your son, you'll also receive the Ultimate Shoe Care Kit from KIWI.
The Ultimate Shoe Care Kit from KIWI comes full of great products like:
KIWI Express Shine Sponges
KIWI Instant Wax Shine
KIWI Brush
KIWI Shine Cloth
Tins of Polish
About KIWI Shoe Care
Started in 1906, KIWI Shoe Care has been part of the manly tradition of Shoe Shine Saturdays for over a century. During WWI and WWII, KIWI shoe polish kept the shoes of soldiers shined and ready for inspection.
Today, KIWI has expanded their product line from their classic polish to adjust to the needs of the modern man. For example, KIWI's Express Shine Sponge is the perfect solution for the busy man. With a clear shine liquid and a hint of color in the sponge, you can easily and completely shine your shoes in a matter of minutes. No mess. No buffing. No problem. It beats rubbing your shoe against the back of your pant leg!
To get the latest shoe care tips and deals on KIWI products, become a fan of KIWI on Facebook, follow them on Twitter and visit www.kiwicare.com.
NO PURCHASE NECESSARY.  LEGAL RESIDENTS OF THE 50 UNITED STATES (D.C.) 13 YEARS AND OLDER.  ENDS 4/2/11.  TO ENTER AND FOR OFFICIAL RULES, INCLUDING ODDS AND PRIZE DESCRIPTIONS, VISIT HERE.  VOID WHERE PROHIBITED.
Last updated: March 27, 2011