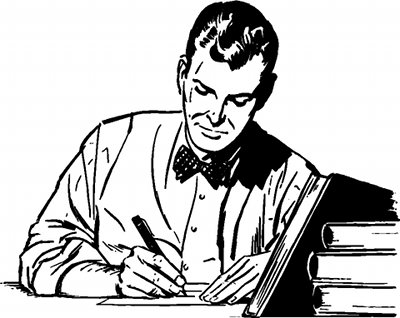 This content is brought to you by the new Hyundai Elantra which helps you "Snap Out" of your routine to live your best life.  Click here to learn more about the new 2011 Elantra. What's this?
Tis the age of clickety clack. Well, more like just clickety. When modern man writes these days, chances are he's hammering away at his computer's keyboard or working his thumbs over his phone's keypad. The use of pen and paper has fallen by the wayside.
But while technology has made communication easy and convenient, traditional methods of writing should not be totally forgotten. Not for nostalgia's sake, but because writing by hand offers a man several benefits that cannot be duplicated by tickling the keys.
By scanning the brain, researchers have found that writing by hand improves memory, cognitive activity, and the expression of ideas. Because writing by hand involves making multiple strokes to form letters as opposed to simply pressing a key, it activates and lights up different parts of the brain. That's why if you're like me, you'll often find that if you run into a writing block while staring at your computer screen, when you grab a notepad and start jotting down ideas, the floodgates can really open up. Writing by hand also tends to be slower and more thoughtful, and it provides a greater connection between you and your words.
So writing with pen (or pencil) and paper can really keep your mind sharp and your ideas fresh. But with our computers and phones so handy, it's hard to snap out of the digital writing routine. So here are 5 things that can help inspire you to step away from the keyboard and take some time each day to write by hand.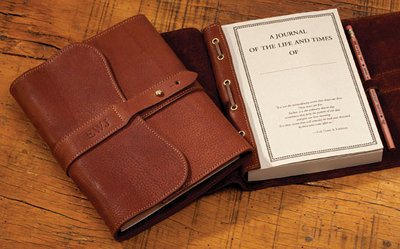 Every man should keep a journal. A journal is a place to work out the big issues in your life. Use it to hone your life's purpose or simply as a place  to empty your mind and soul of the emotional or mental burdens that you're experiencing at a particular time. And when you finally kick the bucket, your journal will ensure that your legacy as a man lives on with your children and grandchildren.
Maybe you're among the millions of people who have tried to start a journal, but never got into the habit. If you've had trouble making journal writing part of your daily routine, perhaps what you need is a journal so handsome and inviting it's hard not to write in it. Enter the Col. Littleton No. 9 Journal. Wrapped up in rugged steer hide, this baby will have you putting pen to paper in no time. It's the perfect place to record your legacy of manliness.
Price: $142

We sign documents every day. Most of it's mundane stuff, but every now and then we put our signature on pieces of a paper that carry a lot of significance. A marriage license, a mortgage, your child's birth certificate. For these sorts of occasions, a rinky dinky ballpoint pen won't do. A man needs a writing instrument with a bit of panache.
Enter the fountain pen.  Used by distinguished gentleman since the mid-19th century, fountain pens turn everyday writing into an art. The nib on a fountain pen allows for calligraphic flourishes. When you sign that check to pay off your debt, it will look like you signed the Declaration of Independence. And when people receive your notes, they'll think they were delivered via a time machine.
Price: $50-$1500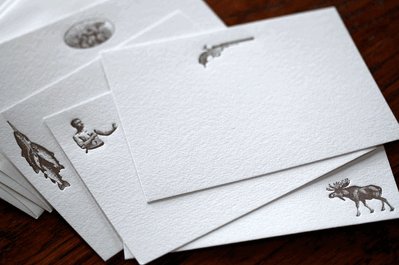 If you're like most men living in this modern age of ours, your personal communication probably takes place through the digital ether of email, Facebook, and Twitter. While these forms of communication are fast and ubiquitous, they lack the human touch.
It's time to snap out of your Web-based correspondence routine and embrace the art of the handwritten letter. But a proper letter can't be just scribbled on a piece of torn out notebook paper. If you're going to take the time to write a letter, you need to use quality stationery.
Of course we can't think of a better or manlier set of stationery than our very own Art of Manliness inspired men's correspondence cards. Choose from over 25 manly motifs that are letterpressed into the card and printed with brown ink. They're perfect for jotting a quick note to Grandpa or sending your thanks to your Aunt Gertrude for your birthday savings bond.
Price: $15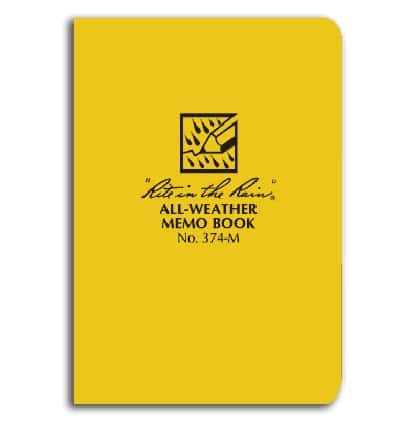 Hopefully by now you've gotten into the habit of carrying a pocket notebook; we've certainly mentioned the importance of this tool numerous times. You never know when you'll get an idea that will change your life. If you don't have something to write it down in, you could lose it forever. But what happens when that idea comes to you while you're standing in a torrential rainstorm? Most pocket notebooks won't allow you to write in such conditions.
Not so with the Rite in the Rain Field Pocket Memobook. Popular among farmers and contractors, the Rite in the Rain notebooks are made with all-weather paper that sheds water and enables you to write in all weather conditions. Never let Mother Nature get in the way of inspiration again.
Price: $4.25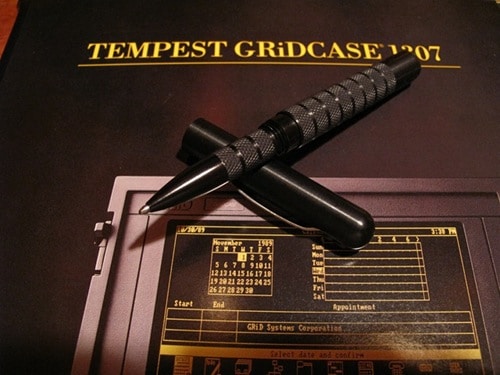 So you have your fancy fountain pen for putting your John Hancock on important documents. But what sort of writing tool should a man use in his everyday life? You could go with a cheap ballpoint pen. The problem is they're not very durable, and they have a tendency to let you down when you need them the most. Plus they're so one deminsional. The only thing you can do with a Bic pen is write with it.
A man needs an everyday writing tool that's both durable and multidimensional. A tactical pen fits the bill.
A tactical pen is a writing implement that can be used both for signing checks and as a last ditch self-defense weapon. Machined from solid metal, tactical pens typically have a tapered barrel, a screw-on lid, and a nice knurled grip. If you had to, you could use the end of the pen to forcefully disarm a would-be attacker, Joe Pesci-in-Casino style.
The Embassy All Black Pen from County Comm is the tactical pen of choice of the U.S. Government. The pen is machined from alumnium and has deep knurled grip on the body that will ensure this bad boy never slips from your hand. The Embassy Pen uses Fisher "space pen" cartridges that will keep you writing in temperatures from -30°F to 250°F. Pair this up with a Rite in the Rain notebook, and come rain or shine, you'll be an unstoppable writing machine.
Price: $44.50
Win a Col. Littleton No. 9 Journal
Hyundai will be giving away a Col. Littleton No. 9 Journal to one lucky AoM reader, so he can start snapping himself out of his digital writing routine. Here's how to enter the sweepstakes:
Leave a comment sharing what sort of tools or methods you use to snap yourself out of your digital writing routine and get yourself writing by hand.

Deadline to enter is March 17, 2011 at 12:00 pm CST.
NO PURCHASE NECESSARY.  LEGAL RESIDENTS OF THE 50 UNITED STATES (D.C.) 18 YEARS AND OLDER.  ENDS 3/27/11.  TO ENTER AND FOR OFFICIAL RULES, INCLUDING ODDS AND PRIZE DESCRIPTIONS, VISIT HERE.  VOID WHERE PROHIBITED.
Last updated: December 15, 2015