Editor's note: There are few things more manly than the independent craftsman. The Art of Manliness would like to support the independent craftsmen out there by featuring from time to time a man who makes a living working with his hands. Today we spotlight Paul Cunningham, the owner of and master craftsman at LEATHER HEAD SPORTS where he makes handsome, handmade footballs and baseballs. Paul gives us a behind-the-scenes look at how he makes his footballs and has donated one of his footballs to be given away to an AoM reader. For a chance to win, see below for details.
_______________________________________________________________

Football is a manly sport. Leatherwork is manly craft.  When you put them together, is there anything more manly?
As the long time Photo Editor for Major League Baseball, I had one of the best gigs in America: looking at baseball photos all day, while working with some amazing photographers, editors and designers.  It was a terrific job, which took me to the World Series every year.
Then, I resigned.  MLB is a special place to work, so when the shine wore off, I knew it was time to move on.
Moving on meant engaging my passions for craftsmanship and sports.  As my days at MLB waned, I began designing and making handsome leather goods. Once I resigned, I was ready to bring my designs to market.
Most footballs today are made cheaply in Asia.  To its credit, Wilson still has a factory in Ada, Ohio where all NFL footballs are made by American hands.  But Wilson is a huge multi-national corporation, and they won't teach you how to make a football.  I had to figure it out for myself, and I thought it would be fun to share what I've learned.
Design
A football is made from four panels sewn together inside out.  Two of the panels are punched with holes to accommodate the laces.  Once the shell of the ball is assembled, it is inverted, filled with a rubber bladder, laced, and finally inflated.
Official NFL footballs are made for guys with really big hands.  Most men struggle to grip and throw an official size football.  I was inspired by the need for a football that would fit my hand, and it had to look old school cool.
Leather Selection
Once upon a time there were hundreds, even thousands of tanneries in America.  Environmental concerns and foreign competition drove most out of business.  The few that remain do a terrific job of producing a wide range of leather styles.  I visited one of the remaining tanneries in America and spent the day looking at leather samples.  I was looking for leather with very specific characteristics:  Brown in color, thick, firm temper, full grain, textured, etc.  Ultimately I wanted leather that would make a beautiful, tough, gripable ball.
After buying and testing many different sides of leather, I finally settled on one that was just about perfect.
A common concern about LEATHER HEAD footballs is their gripability.  An NFL ball is made from leather that has a rough texture embossed onto the surface.  For LEATHER HEAD footballs, I chose leather that has a light texture, but is also fairly oily.  The oil, rather than make the ball slippery, actually enhances the ball's gripability.  Also, because LEATHER HEAD footballs are designed for average size hands, they are inherently more gripable than an official size ball.
Components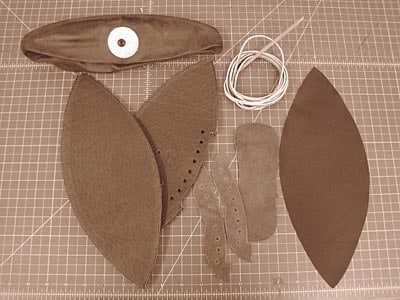 A LEATHER HEAD football is made from the following components:
4 leather panels
4 liners
Lace hole reinforcements
Polyester thread
Bladder guard
Rubber bladder
Rawhide lace
Construction/Tools
Here are the step-by-step instructions for making a football.
Step 1. Lay a side of leather on your workbench and closely position four panel patterns on it.  With a sharp utility knife, cut the leather around the patterns.
Step 2. Transfer the leather to your die press.  Carefully position your cutting die on the leather and punch out each panel.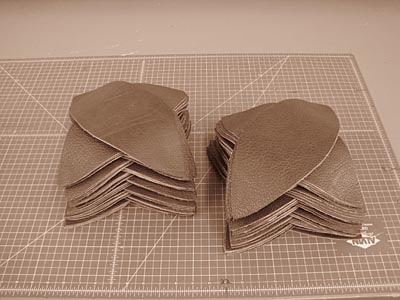 Step 3. Sew a liner into the flesh side of each panel.
Step 4. Return two of the panels to the die press and with a special die, cut out the lace holes.
Step 5. Punch out a hole for the air valve.
Step 6. Brand your logo onto the ball.
Step 7. Sew the bottom panels together.
Step 8. Sew the lace hole reinforcements and bladder guard in place.
Step 9. Sew the top panels together.
Step 10. Invert the bottom panels and insert into the top panels.
Step 11. Sew bottom and top panels together.
Step 12. With a stout stick, and strong muscles, invert the ball so that it is right side out.
Step 13. Insert a new rubber bladder, position the bladder guard, and partially inflate the ball.
Step 14. Lace the ball closed; trim the excess lace.
Step 15. Fully inflate the ball and admire your work.
Conclusion
The world is teeming with an over abundance of cheap, massed produced junk.  Lately though, a craft movement has emerged to counter this.  It is a movement that attaches greater value to American made goods, often made on a small scale.  It can be seen in a wide range of enterprises, including locavore restaurants and pop up shops.  It also extends to many large brands like LL Bean who are now trumpeting their heritage products.  One of the best examples of this movement is the success of Etsy, a web-site marketplace for handmade and vintage items.
We now live in an internet enabled world that makes commerce available to everyone with an idea and a little gumption. If you have a passion, by all means, engage it.  You never know where it will lead you.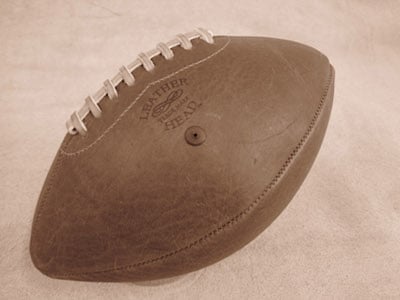 ________________________________________________________
The LEATHER HEAD Sports Handsome Dan Football Giveaway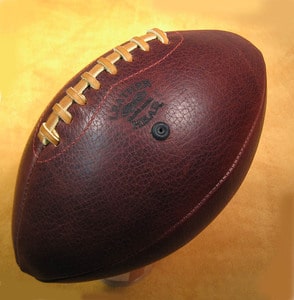 If you'd like to get your hands on one of these handcrafted footballs from LEATHER HEAD SPORTS, here's your chance. Paul has agreed to give away one of his Handsome Dan Footballs to a lucky AoM reader. The beautiful fall weather provides the perfect opportunity to toss the pigskin (well, cowskin) around with friends and family, and this football will make you the envy of your peers.
How to Enter the Giveaway
Leave a comment sharing your favorite football-related memory.
We'll randomly select one comment and that man will win a handmade Handsome Dan Football from LEATHER HEAD SPORTS.
The deadline to enter is Monday, November 15, 2010 at 10:00 CST.
Last updated: December 15, 2015