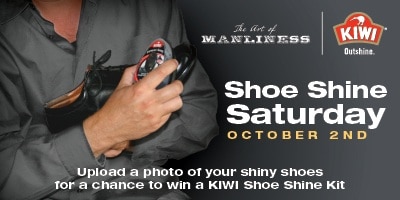 My dad had a manly tradition that I fondly remember from my childhood. Maybe yours had the same one. One Saturday every month, my dad would pull out his wooden shoe polish kit packed with tins of KIWI shoe polish and take all his boots to the den to polish them. He usually watched
In the Heat of the Night
or a football game while he did it. He had a personal technique, as I'm sure most men do, to get that perfect shine. The warm
smell of shoe polish and leather
filled the entire room, and it would usually linger there for an hour after he finished.
Now that I'm a man myself, I'm trying to establish the manly tradition of "Shoe Shine Saturday" in my own life. I'll admit that I haven't been the best at maintaining my shoes. I've sometimes gone months without shining them. But I've learned that a pair of glossy, well-shined shoes can pull an entire outfit together and mark you as a disciplined man who pays attention to detail.
Moreover, treating your shoes on a regular basis with waterproof polishes shields your shoes from the elements and ensures they'll be looking brand new 20 years down the road.
Besides keeping my shoes in tiptop shape, another benefit I've found from Shoe Shine Saturday is that it provides a ritual that gives me time to meditate and think deep manly thoughts. The quiet, repetitive activity of brushing your shoes  really settles the mind.
Will you join me in establishing the manly tradition of Shoe Shine Saturday in your life? To motivate you to take part, we've partnered with KIWI Shoe Care to kick things off with a shoe shining contest.
Shoe Shine Saturday Contest Sponsored by KIWI Shoe Care
To get you into the Shoe Shine Saturday swing of things, we're having a shoe shine contest on Saturday, October 2, 2010.
To enter, take a picture of your shoes after you shine them. Show us just how shiny and smooth you can get them! Before and after pictures are encouraged. To submit a photo:
Step 1. Join the Art of Manliness Community.
Step 2. Take a picture of your best shined shoes after shining them on Shoe Shine Saturday.
Step 3. Upload the photo to the Art of Manliness Community photo page.
Deadline to enter is Monday, October 4, 2010 by 7PM EST.
Entries will be judged on the quality of the shoe shine and the creativity and quality of the picture. Brownie points can be earned if your picture includes KIWI products. (Hey, they're sponsoring the contest!)
The Prize
Up for grabs is everything you'll need to keep the tradition of Shoe Shine Saturday going for decades to come.
A Wooden Shoe Shine Box Provided by the Art of Manliness: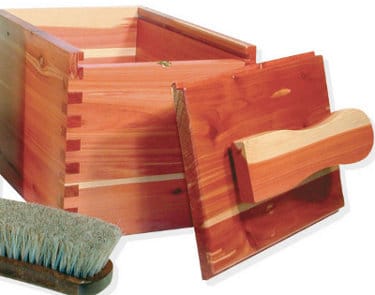 This handcrafted, cedar shoe shine box is proudly made in Northern Minnesota by George's Shoes and Repair, which has been in business since 1905! The only thing better than the smell of shoe polish is the smell of shoe polish and cedar.
And to fill your handsome shoe shine box:
The Ultimate Shoe Care Kit from KIWI full of products like:
KIWI Express Shine Sponges
KIWI Instant Wax Shine
KIWI brush
KIWI Shine Cloth
Tins of Polish
a handsome leather  belt you can wear while shining your shoes
a leather wallet that you can shine when you run out of shoes
Plus: KIWI is also throwing in a $100 Gift Card to Target.
About KIWI Shoe Care
Started in 1906, KIWI Shoe Care has been part of the manly tradition of Shoe Shine Saturdays for over a century. During WWI and WWII, KIWI shoe polish kept the shoes of soldiers shined and ready for inspection.
Today, KIWI has expanded their product line from their classic polish to adjust to the needs of the modern man. For example, KIWI's Express Shine Sponge is the perfect solution for the busy man. With a clear shine liquid and a hint of color in the sponge, you can easily and completely shine your shoes in a matter of minutes. No mess. No buffing. No problem. It beats rubbing your shoe against the back of your pant leg!
To get the latest shoe care tips and deals on KIWI products, become a fan of KIWI on Facebook, follow them on Twitter and visit www.kiwicare.com.
Read the official rules for the Contest.
Last updated: December 14, 2015