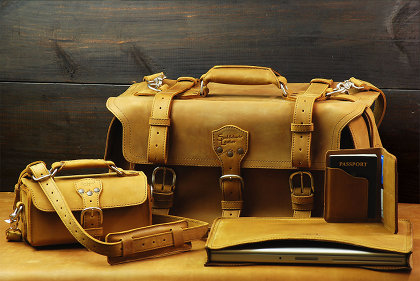 The pull of travel, of the open road. Every man feels its tug, but not every man is ready to answer the call. When the opportunity for an adventure arises, a man needs to be prepared to pack his bags, jump in his car, hop a plane or train, or mount his trusty steed. A man needs a few pieces of trusty gear ready to accompany him on every adventure, gear that will last for decades of trips and experiences, gear that will take whatever he dishes out and keep on ticking. Here's your chance to win the travel gear you'll carry with you the rest of your life.
This giveaway is huge. Saddleback Leather Company, the craftsmen who create the sturdiest, manliest, best-made leather goods on the planet, is giving away an overnight bag, a small travel case, a laptop sleeve, and a passport wallet. Four manly pieces of gear that all come with Saddleback's unmatchable 100 year warranty. And you get to choose the colors you want.
You'll have plenty of stories to tell your kids about where these pieces of gear have been, and they'll be fighting over them when you're dead.
Let's take a look at the amazing booty up for grabs in this giveaway: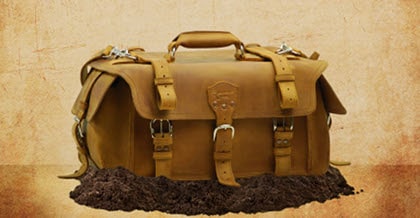 A man doesn't use a wheelie bag. He carries something like this. The overnight bag is perfect for your spontaneous short trips. This bag is big enough for all your manly essentials. It has a false bottom where you can keep documents, pictures, and treasure maps without creasing them. And it fits in the luggage  compartment of planes, allowing your to stride past the baggage check and get on with your adventure.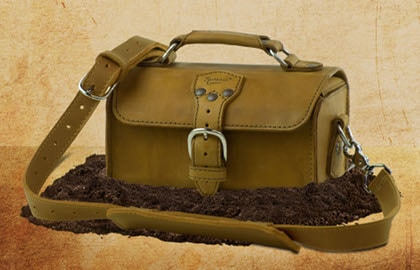 Every man needs a quality dopp kit to hold his toiletries and other supplies. But this travel case is far more than your typical dopp kit. Made with a detachable shoulder strap, thick, stout, full grain boot leather, and a tough pigskin liner, this is the one travel case that's made to last a century. You can use it for your toiletry bag, or you can pack it with ammo, first aid supplies or even your lunch.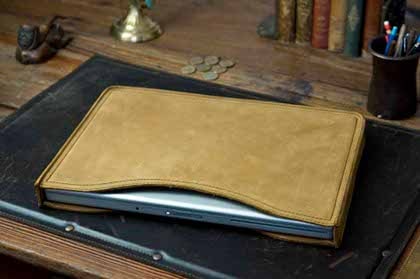 The laptop sleeve is the latest leather creation from Saddleback. They're not even out yet-the Saddleback laptop sleeve debuts on July 20. You can be one of the first to start protecting your laptop with stylish sturdability. Yup, I just made that word up.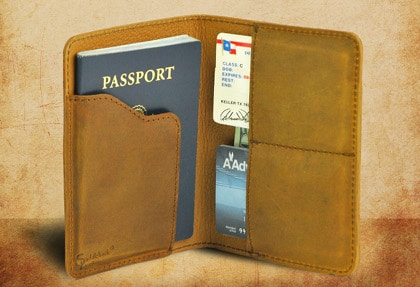 Made with 100% full-grain boot leather, this wallet keeps your money, credit cards, and money all in one place.
How to Enter
So how can you get your hands on this awesomely manly prize package? You have 3 ways to enter your name in a random drawing to win Saddleback's Ultimate Manly Travel Gear.
Leave a comment under this post sharing where in the world you would spend a weekend getaway if could pick up and go anywhere.
Join the Art of Manliness Community's Man Bag Group. In order to join the group, you have to be a member of the AoM Community.
Share this post with your friends using the "Email Story to a Friend" button in our "Share" Box at the bottom of the post. For each friend you email this post to, you'll receive one entry in the contest. This means the more friends you share it with, the more entries you get. You can only send 10 at a time, but feel free to come back and send some more. We can't see your friends' email addresses and would never send them spam.
Deadline to enter is Thursday, July 22, 2010 at 11PM CST. Enter early and often. Good luck!
Last updated: December 10, 2015