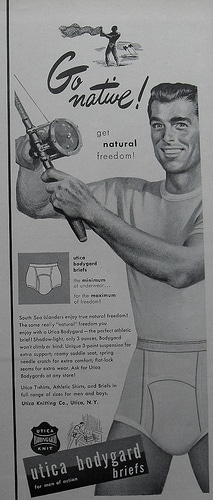 I'm a man!  I'll fish in my skivvies if I damn well please.
If you're like a lot of men, you've probably been wearing the same 5 sets of undergarments for the past 6 years. And they're probably nasty looking. Your undershirts have layers of yellow sweat and deodorant stains in the pits, your underwear has holes, and your socks are threadbare.
Why do men let their underwear get like this? Well, in the long list of things that press on a man's mind every day, their underwear's condition probably doesn't even crack the top 100. Nobody thinks about running to the store to buy some new undies. And it's understandable. Most people won't see your underclothes, so out of sight, out of mind.
If only there was a service that would mail you new underwear throughout the year so you don't have to remember to buy a new set ever again.
Guess what? A service like that exists. It's called Manpacks.
Manpacks is a subscription service that sends you a new set of socks, underwear, and undershirts every three months. You pick the plan and the style of underclothing you want and Manpacks will take care of the rest. For as little as $4 a month, you can receive a completely new set of undergarments at just the right time to replenish your supply. You'll never have to make a run to the store to buy new undergarments again. For today's busy man, it's nice to have one less thing to worry about.
The Manpacks Giveaway
We're giving away a one year Manpack subscription to one lucky Art of Manliness reader. They'll receive 2 pairs of underwear, 2 shirts, and 2 pairs of socks every 3 months for the next year. No strings attached-it's not one of those subscriptions that sneakily automatically renews itself. Just a whole year of new underwear delivered to your door. To enter, simply leave a comment on this post answering the age old question: boxers or briefs?
Deadline to enter is Monday, June 28, 2010 at 11PM CST.
We'll select one random entry as the winner.
Everyone who enters the contest will receive a code for a $10 discount on any Manpacks package. So enter already! You only have $10 and fresh undies to gain!
Last updated: December 8, 2015