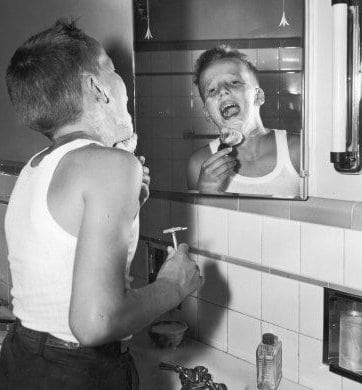 For many men, shaving is just one of those things you do every morning to prepare for the day. It's like brushing your teeth. You do it so you look presentable, but you don't think much about it.
But think back to when you were a boy and lathered up and put a razor to your face for the first time. If you're like me, that first shave was downright exciting. It felt like a small rite of passage into manhood. The Ancient Romans thought of it that way; they used a boy's first shave as the event that initiated him into the community of men. Families would hold big festivals for the young man and the whiskers from the first shave were often put into a box and consecrated to the gods.
I didn't get a party with my first shave. In fact, no one knew about it except for me. I was maybe 12 or 13. I snuck into my parents' bathroom and rummaged through my old man's Dopp kit for his razor and shaving cream.
I really didn't have anything on my face except for some peach fuzz and maybe a few dark hairs. But I figured I should probably get rid of that stuff. So I shaved. I really didn't know what I was doing. I just tried to remember how my dad did it after watching him shave growing up. I nicked myself a few times. I kept it a secret. I was sort of embarrassed about it, I guess.
The second time I shaved (a couple of months later) I wasn't able to keep it a secret. I shaved off a big chunk of my upper lip, and I started bleeding everywhere. The bathroom looked like a crime scene. I put a bunch of toilet paper on my lip and had a huge scab there for a couple of weeks after. I remember going to the doctor for something, and he looked at my lip and said, "So, you've started shaving, huh?" I sheepishly looked down and nodded.
The West Coast Shaving Giveaway
The awesome folks at West Coast Shaving have recently revamped and relaunched their site. If you've never been there before you need to check it out. They have everything a man needs to get a classic wet shave. Want to get started with safety razor shaving? West Coast Shaving has you covered. What about straight razor shaving? Check out their selection of cut-throats. Oh, and they also carry some great shaving brushes, shaving creams, soaps, and after shaves. Whatever your manly shaving needs, West Coast Shaving's got it.
To celebrate their relaunch, West Coast Shaving is giving away a starter safety razor shaving set worth $100 to one lucky AoM reader. The kit includes: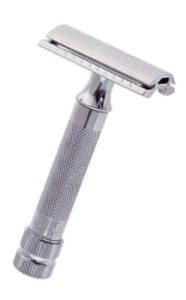 Merkur HD #34C Safety Razor (Value $33.50)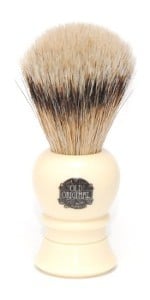 Vulfix 2234 Super Badger Shaving Brush (Value $55)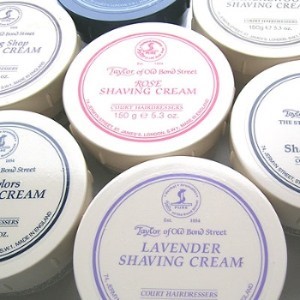 Taylor of Old Bond Street Shaving Cream in tub (Value $14)
How to Enter
If you'd like to get your hands on this awesome shaving kit, leave a comment on this post describing your first shave. How old were you? Did your dad teach you? Did you see it as a rite of passage?
Deadline to enter is Monday, May 31 at 11PM Central Standard Time. We'll then select a comment at random to be the winner. Enter today!

Last updated: June 1, 2010