Share
If you've been reading the blog for awhile, you probably know about our series called
Lessons in Manliness
. The articles in this series offer a glimpse into the lives of great men in history and highlight some lessons from them that can motivate and inspire today's men to be the best they can be.
But a few months ago, I had an idea.
We all have men in our lives who have taught us lessons in manliness, ordinary men who helped us understand what it really means to be a man. They're our fathers, our grandfathers, our ancestors, our teachers, and our friends. They're regular joes that history books will probably never write about; however, their lessons and examples have more of an impact on our own lives than the famous men we often idolize.
So I propose we do a group writing project. It's really simple. I want YOU to write a Lessons in Manliness about a man in your life. Your subject could be your dad, your grandpa, your great uncle, whoever. I want to read about his life and learn what lessons in manliness you have taken from him. This is your chance to share with others the life of someone important to you.
Interested? Read on.
How This Will Go Down
Here's how this Lessons in Manliness writing project will work.
Become a member of the community. To submit a Lessons in Manliness essay, you'll need to be a member of the community. It's going to be the easiest way to keep track of all the submissions we plan on getting.
Write a blog post to share your Lessons in Manliness. With your community membership, you have the ability to write blog posts. This is where you'll submit your entry to the Lessons in Manliness project. After you finish writing your Lessons in Manliness blog post, tag it with "Lessons in Manliness." If you don't place that tag on there, keeping track of the entries will be very difficult for me. Please help out and place the proper tag. I'll be taking submissions until March 31, 2010.
After the project is finished, I'll create a FREE eBook. After we get all the Lessons in Manliness submissions, I'll format them into a nice eBook that will be available for FREE so that others can read about and learn from the good men that have inspired you in your life, and who can be an inspiration to other men as well. If you ever wanted to honor a grandfather or mentor for being an example of true manliness, here's your chance to do so.
What's the Accepted Format for a Lessons in Manliness Submission?
Glad you asked.
First, we'd like your Lessons in Manliness essay to be about someone you know or are related to. So it could be an ancestor, school teacher, scoutmaster, coach, brother, friend, whatever. Again, the purpose of this writing project is to learn about the stories of ordinary men who've left a legacy of manliness in your life.
We'd like the format of the entries to be pretty uniform. Please take a look at the previous lessons in manliness we've done. That's the general format we'd like to see.
We usually start off with a brief biography of the man. Your introduction should give a general overview of the man you're honoring. Where and when was he born? Anything unique about his childhood? What was his profession? Did he serve in the military? This is your chance to share with the world the story of a man that has meant a lot to you, so brag as much as you want.
If you don't know much about the man you want to write about, well, this a good chance to learn about his life. Give your grandpa a call and ask about his life. Maybe you'll have to talk to an aunt to find out about a great-great uncle who died in battle. If you've never dug into your roots, this a good time to start.
After the biographical introduction, share the lessons men can learn from this man's life. You'll notice in the Lessons in Manliness we've done, we'll bold a sentence that states what lesson the man taught by example. After that, we use the paragraph to give specific examples from the man's life on how he lived and taught that lesson.
You can put in as many lessons as you want. Please keep in mind that while we've covered some really great men from history, the man you choose to profile doesn't have to have won the Heavyweight Championship or become a Supreme Court Justice. We're not necessarily looking for men who did super extraordinary things, just men who taught lessons, even small and subtle ones, about how to be an honorable man. Did your grandfather help support his family during the Depression, volunteer to fight in WWII, and stay married to your grandma for 60 years? Did your great-uncle immigrate to this country and work 80 hours a week to put his kids through college? Does your best friend volunteer every week at a homeless shelter? Did your coach make everyone on your football team feel like a champion? Did your brother take amazingly good care of his son when he had cancer?
Pictures. Use them. A picture's worth a 1,000 words, right? That's why we want you to include plenty of pictures in your Lessons in Manliness, if you can. If your subject spent some time in the military, a picture of him decked out in his uniform would be awesome. If the lesson you took from your subject was to put family first, then a picture of him with his family would be in order.  You get the… picture.
Still Not Interested? O.K. How About We Throw in a Prize?
We hope that the chance to learn about and honor a man that's had an impact on you would be enough motivation to submit an essay. But I know sometimes people need a little something more to get their butt in gear. So we'll sweeten the pot by offering a prize. All you have to do to be eligible for it is to submit a Lessons in Manliness article. That's it. A winner will be drawn randomnly from all the entries. It's not a writing contest, so don't worry if you don't think your writing is Hemingway-esque. We don't care (although something obviously thrown together willy nilly simply to enter the contest will not qualify). We just want to hear the stories and lessons from the men who have meant the most to you and shaped your view of manliness.
Okay, so what's the prize?
A Box of (freaking) Manliness. Behold.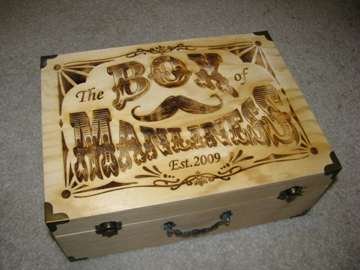 Inside this handsome looking box you'll find the following manly treasures:
Merkur Safety Razor
Taylor of Old Bond Street Sandalwood Shaving Cream
Badger Hair Shaving Brush
Mustache Handkerchief
Case Pocket Knife
An Art of Manliness t-shirt of your choosing
A signed copy of the Art of Manliness book
Total prize value: around $250.
Remember, deadline to enter is March 31, 2010.
I'm looking forward to reading your lessons in manliness!
Last updated: August 11, 2011