Art of Manliness Gentleman & Scholar Tee Now Available in Black
Due to popular demand, we are now offering our Gentleman & Scholar tee in black in addition to red. Check out all of AoM's Tankfarm-designed tees here.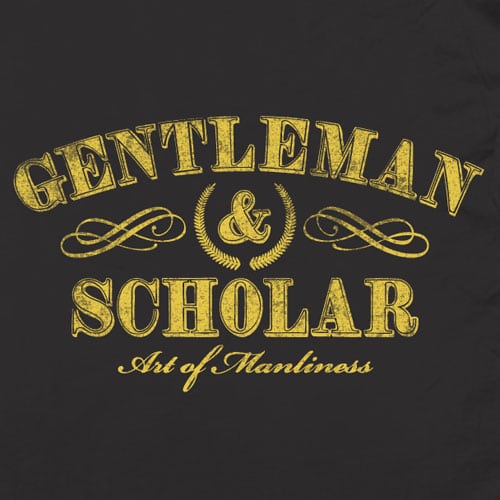 Around the Community This Week
Community Feature of the Week: Tony visited what may be the oldest gym in America-and shares what he learned about it and some great pics. The gym was built inside a Victorian mansion-talk about man space! Very cool. Check it out.
There was a lot of great discussion around the Community this week! Be sure to stop by and lend us your two cents.
In the Man's Best Friend Group, Mike challenged members to do something this year to help shelter/rescue dogs. Are you up for the challenge of helping poor pooches?
Mr. Saleem Huepenny posted an article about the death of strongman Joe Rollino. Joe was the epitome of a time when men were men-he died at 104 and stuck to his fitness and health regimen until being struck by a minivan and killed.
Jonathan invites you to share your favorite inspirational speech.
J.A. shared how he helped a girl who was receiving some unwanted attention from a jerk. And thus earned major gentleman points.
Mr. Menard is looking for advice on kettlebell workouts.
Jesse is looking for recommendations for a good bottle of single malt scotch to get for his dad's birthday.
TrekkinDave is thinking about becoming a nurse and wants to hear from men already in the field.
Tanner wants to hear about your manly space. What are the most masculine things you have in your house?
Adam wrote up a post entitled: "10 Useless Fact to Impress Your Mates With." And it is exactly as advertised. Do you know what the "WD" in WD-40 stands for?
Ron wrote about his truly admirable and manly 90 minute morning ritual. Ah. I can smell the sausage right through the screen.
Don wrote a nice post about a favorite father/son ritual he had in his boyhood. Breakfast at a diner, a trip to the barbershop, and a nutritious snack: grape soda and a chocolate bar.
Sean is going to be writing posts sharing what woodworking projects he's working on in his workshop. In this first post he shows us a card table he made for his mother. It's a real beaut! You can see more pics of his workshop here.
Tool-wielding Ape discusses the very interesting research behind the reasons we swear.
Pylon asked for advice for how to deal with a young boy who has a problem being dishonest.
Chris argued that a man should be completely and totally honest in all his dealings in life.
Last updated: January 17, 2010