The Art of Manliness Movember Team
The first week of Movember has come and gone. How are those mustaches coming along? The AoM Team has raised $2,466.50. Here are the top 5 team members:
Michael Miller    $ 580.00
Paul Fournier    $ 300.00
Adam Bradley    $ 200.00
Chuck Balog    $ 295.00
Ryan Gorman    $ 195.00
Our goal is to raise $10,000 by the end of the month. Please help us reach our goal by donating to the Art of Manliness Movember Team.
Support the Art of Manliness Movember Team by Buying a Copy of the Man's Guide to the Holidays Ebook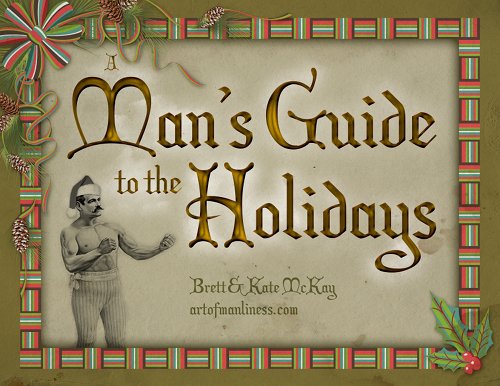 If you're not growing a stache, but you want to donate to the Art of Manliness Movember team, here's an easy and fun way to help out. Starting today, we'll donate 50% of the purchase price of every Man's Guide to the Holidays ebook that we sell to the Art of Manliness Movember team. Click here to buy an ebook right now; you'll get tons of manly holiday tips and you'll help raise money for men's health issues like prostate and testicular cancer and male depression.
Picks from the AoM Archives
The Uncle Buzz Workout: How to Get in Shape Without the Gym
Your Personal Appearance: The Importance of Being a Sharp Dressed Man
Around the Community This Week
Denis wants to know what you do to relieve stress when your plate is enormously full.
Killkiddo wants to hear your desert island list. You get one movie, book, album, drink, and weapon. And a volleyball, of course.
B.J. is feeling really burned out at work. Got any advice for him?
Mark started a great discussion on how to change society's perception of men. Lots of insightful comments.
In the John Wayne Appreciation Club, Yankee Cowboy Bob shared stories of when the Duke took some bad falls while filming his movies but kept on trucking.
Clark started a discussion on how a man should wear a scarf.
Nicholas started a discussion on ways to get out of the doghouse.
Brad posed the interesting question: "How far will humans advance?" Have we hit our evolutionary peak?
Paul started a discussion on morality and deviance-are people born good or born evil?
James! wrote a great blog post about how he scared kids on Halloween.
David wrote a blog post about what it's like in his new role as stay-at-home dad.
Herb wants to know what you want for Christmas.
Links from Around the Web
Galco's Soda Pop Stop. If you love good soda, you'll love this video about Galco's Soda Pop Stop. Here's a man who's passionate about real soda and runs an awesome store with hundreds of interesting and unique brands and flavors. Banana soda? Cucumber soda? Awesome. (Hat tip: Andrew Barbour)
The Gentlemen's Ten (@The Gentlemen's Standard) In this excellent article, Glen Antoine Palmer lists the ten things he never saw his dad do, but which he is determined he'll let his children see him do.
The Black Tie Guide. Every man is at his most dapper when he's dressed up for a black tie affair. But do you know how to do it right? This website is the ultimate resource on everything black tie, from its history to modern and vintage styles. (Hat tip: Stephen Arksey)
Revising and Reworking a Failed Financial Plan (@ The Simple Dollar) While this post is geared towards financial plans and goals, the ideas in it are applicable to any facet of your life. When things aren't working out for you, instead of doing more the same, take a step back and see if your approach is completely wrong.
Terry Tate: Office Linebacker This is an oldie, but a goodie. Every office needs an office linebacker. Productivity would shoot through the roof!
Always Say Your Name (@ Social Primer) A simple reminder to introduce yourself when you meet new people. Also has great advice on what to say and not say when you remember a face, but not the name.
Is Barefoot Running Really Better for You? (@ Nerd Fitness) Barefoot running seems to be all the rage right now, but is it really an improvement over running with shoes? Nerd Fitness investigates.
Fathers Gain Respect from Experts (and Mothers) (@ NY Times) It seems for the past century, dads have been portrayed and seen as inept parents. See Homer Simpson, Al Bundy, The King of Queens Guy. But parenting experts are finally giving dads their due. Experts are starting to appreciate the different parenting style dads bring to the picture. It seems fathers use discipline and play to encourage risk-taking and problem solving, both important skills in the development of a child.
Create the Perfect Mustache (@ GQ UK) A fun article for you gents growing your mo's for Movember.
Cigarbox Nation Who would have thought there's an entire community dedicated to the cigarbox guitar? AoM reader Shane Speal introduced me to the world of cigarbox guitars and I have to say I'm smitten with it. Definitely want to make one for myself. If you're looking for a cheap and unique alternative to the classic guitar, check out this site.