Last Chance to Join the Art of Manliness Movember Team!
Movember starts on Nov. 1. So today is your last chance to sign up and join your AoM brothers in a month long effort to grow a manly stache and raise money for men's health issues. Up for grabs is a sweet Box of Manliness, full of manly booty. There are currently 3 official AoM teams: an American team, a Canadian team and an Australian team, although you don't have to be from any of those countries to join them. Right now we have 72 men signed up. I'd love to see the AoM Team have 100 members kicking prostate cancer's ass.
Be sure to sign up for the Community Movember Group; Shaun Daws has been sharing news and updates and has a FAQ section to answer your queries. If you joined another Movember team but want to be included in the AoM tally, leave a link on the other teams page.
Get the Man's Guide to the Holidays eBook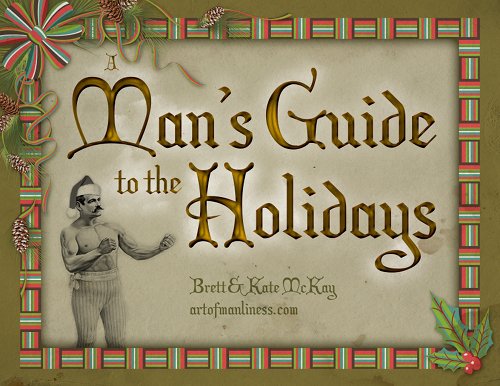 It's Halloween today and thus the holiday season is officially upon us. Make the most out of Halloween, Thanksgiving, Christmas, and the winter season by reading up on the myriad of manly tips and tricks found in our new ebook: Man's Guide to the Holidays.
Around the Community This Week
Community Highlight of the Week: Topher White wrote a great blog post in praise of the tuxedo that covers what separates a tux from a regular black suit and how to wear one with style.
Starting off where Monday's post on manly loyalty ended, kpeckham started a discussion on where loyalty ends. If you must choose between loyalty to a friend and loyalty to an honor code, which do you choose?
Bryan wants to know what helps you get out of bed in the morning, especially in the winter.
Ray is looking for suggestions on how to get a kid who doesn't like being active up and moving.
Killkiddo is looking for suggestions on strong and manly names for a son.
John started a discussion about the US military's "don't ask, don't tell" policy.
Yankee Cowboy Bob asked, "What would cause you to look down on someone and consider him less of a man? Or, what have you done for which other people have looked down on you?"
Joseph wants some ideas on how to take one's political beliefs and turn them into real action.
Mike started a discussion about the way a boy's natural instinct to fight has been suppressed.
Preston made a list of the things he's done and will do to become more self-reliant. What have you done?
General Interest Links
Check out one of my new favorite blogs: Nerd Fitness. Steve Kamb presents solid health and  fitness advice for average joes in a way that's accessible and humorous. A great site.
Build Self-Confidence Like a Leader (@ harvard business publishing) We'll all serve in some sort of leadership position at some point in our lives. Marshall Goldsmith provides five tips on how you can develop the self-confidence you need to lead others. My favorite tip: Don't worry about being perfect.
Classic Cinema Online This site is amazing. You can watch old movies for FREE right on your computer. Ever wanted to watch Mr. Smith Goes to Washington? Here you go. Like old Westerns? They have 83 of them you can watch right here.
Men and Women of Industry I stumbled across this cool style blog. I'm totally digging the Game Warden Look. Reminds me of my grandpa.
Last updated: November 1, 2009