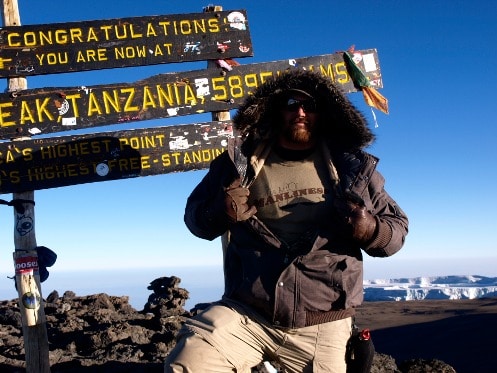 Most of us spend our vacations in predictable fashion.  We pack up and head off to Disney World for a week, or we spend a few days at the hunting cabin with the boys, or we throw the kids in the van and speed off to Yellowstone.  While our holiday choices are often wide ranging, there is usually a common theme: Time to get away, relax, and have some "me" time. And what's wrong with that?  Absolutely nothing.  Chances are you work a hard job with long hours, and you've likely earned a little pampering and relaxation.  The problem is, at the end of that vacation you are right back where you started, often with nothing more to show for it than an empty wallet and a sunburn.  Now the holiday is over, you're back to work, and the countdown to next year's vacation begins.  Isn't there a better way you could have spent that time?
"The only gift is a portion of thyself."

-Ralph Waldo Emerson
The most rewarding way to spend your time is to reach out and help your fellow man.  It's a strange paradox, but the guy who uses his day off to rebuild his elderly neighbor's dilapidated front porch feels way better about himself and his life than the guy who spent his day waiting in line for Space Mountain.  And yet, at the same time, no one should be asked to selflessly sacrifice all of their time away from the grind of the working world.  After all, everybody needs a break every once in a while.  Fortunately, there is a happy medium that allows us to help others while still enjoying our time off:  Adventure Philanthropy.
"What we have done for ourselves alone dies with us; what we have done for others and the world remains and is immortal."

-Albert Pike
Adventure philanthropy opportunities are essentially volunteer projects or events which provide support either to a charitable organization or directly to a targeted cause while providing a memorable adventure or challenge for the volunteers themselves.  Adventure philanthropy can be broken down into two basic categories, each with endless opportunities for you and yours to help those in need, all while experiencing the adventure of a lifetime.
Extreme Event Sponsorship
For the thrill seekers among us, extreme event sponsorship may be just what the doctor ordered.  Essentially, a volunteer or group of volunteers takes on an extreme challenge (such as completing an Ironman race, climbing a difficult mountain, etc) and then enlists sponsors who donate money in support of their efforts, with all funds going to a designated charity.  Such events are often organized by the charities themselves, removing much of the logistical burden from the volunteer's shoulders.  Below you will find just a few common options for extreme event volunteering, with literally thousands more being just a Google search away.
Climb Kilimanjaro
Run a Marathon
Trek the Great Wall of China
Climb to Everest Base Camp
Skydive
Adventure Racing
Volunteer Vacations
Let's face it, marathons and mountain climbs aren't for everyone.  For the less "extreme" among us who are still looking to help out while having a bit of adventure, another option exists.  Volunteer vacations (both domestic and international) offer participants the chance to step far out of their comfort zones and fully immerse themselves in another culture, all the while working in conjunction with a chosen organization in an effort to improve the everyday lives of the people within that culture.  Packages are often all inclusive and are organized by the volunteer travel company.  Some examples of volunteer vacations include:
Spending a week in Uganda helping build a school or church
Assisting in the remodeling of an orphanage in Rio de Janeiro
Spend the week volunteering at a Habitat for Humanity home building site
Choosing Your Charity
The first step in taking on an extreme charity challenge or volunteer vacation is to choose the charity or cause that you want your efforts to benefit.  If you are taking on an extreme challenge and you plan on raising funds for a specific charity, choosing your organization is easy.  Simply decide on a cause that you feel compelled to support, compile a list of charities dedicated to that cause, and then gather more information on the charities on your list so that you can make an educated decision.  Once you have narrowed your selection down to a few favorites, be sure to check out your options on Charity Navigator, a charity evaluation website which gives you full access to every registered charity's expenditures, including specific information on how much of the funds raised in the name of the charity go directly to the charity's projects.
For those who want to avoid the logistical elements of planning your own trip or event, several charities organize extreme challenge and volunteer vacation packages for small groups which take much of the planning burden off of the volunteers, allowing them to focus on fundraising and preparation.  If you have a specific charity in mind, contact them to see if they already have programs like this in place, and if not, if they would be willing to help you organize one.  Also, check the bottom of this post for a list of links that will get you started.
Raising Your Sponsorship Money
Typically (though not always) those who are embarking on a volunteer vacation pay their own way.  Most volunteer vacations are considered a substitute for a normal vacation, so the cost is usually similar to what you would expect to pay to be on holiday for the same length of time.  Challenge events, on the other hand, are specifically designed to be funded through the personal fundraising efforts of the volunteer. There are lots of options for raising your money, the only real limit being how creative you can be.  Here's a few to get you started:
Host a charity car wash
Street collecting around the holidays (A great excuse to break in your Santa outfit)
Supermarket bag packing
Sponsor a quiz night at a local pub/bar
Organize a neighborhood yard sale
My Challenge Event Fundraising Experience
I recently spent about three weeks in Tanzania, where I and a team of college age students climbed Mount Kilimanjaro in the name of Childreach International, a London-based charity whose mission  includes the construction and improvement of primary and vocational training schools in the Kilimanjaro region in Tanzania and elsewhere.  In order to join the climb, all the members of the team had to raise 2200 British Pounds (about $3500) each.  From that amount, the charity guaranteed us that at minimum, 50% of the total would go directly to the charity, and likely a great deal more, depending on how cheap they could purchase plane tickets, find accommodation, etc.  In addition, all money raised above and beyond the initial £2200 would go directly to the charity.  I was provided with an account for a fundraising website where people could donate, so I never had to handle any of the money personally.  From the moment someone donated on my page, the money was transferred directly to the charity.
To raise the funds, I wrote formal appeals to close friends and family members first.  Once those resources had been exhausted, I branched out and appealed to several local businesses at home and at school, offering them sponsorship opportunities that would double as advertising exposure.  Finally, I made a good bit of the money by volunteering as a charity bag packer at a local grocery store, where I would pack customer's groceries for them, usually inspiring them to drop their spare change or a buck or two in my charity bucket at the end of the register.
Other members of my group tried a few different fundraising methods.  A popular fundraiser that many had success with was organizing a pub crawl and charging a flat rate for anyone who wanted in, a portion of which went to their fundraising and the rest of which covered the crawl.  Several members held charity concerts where they convinced local bands to play for free or cheap with gate fees benefitting the charity, and one guy even organized a speed dating night which turned out to be very successful as well.
Have an Adventure While Helping the World
The world outside your comfort zone is waiting for you.  It's filled with exhilaration and adventure, but more importantly, it's filled with people who need your help.  In tough economic times like these when we're focused on looking out for ourselves and riding out the storm, it's harder to think about helping others.  Remember, however, that the majority of the world's population lives their daily lives in a state of poverty that most of us cannot even comprehend, let alone relate to.  Helping those in need is easier than you think, and with a little creativity it can even turn into quite the adventure.
"Often I go into some distant region of the world to be reminded of who I really am.  There is no mystery about why this should be so.  Stripped of your ordinary surroundings, your friends, your daily routines…you are forced into direct experience.  Such direct experience inevitably makes you aware of who it is that is having the experience.  That is not always comfortable, but it is always invigorating."

-Michael Crichton
Interested?  Here's some links for various organizations that organize or compile extreme fundraising challenges or volunteer vacations:
Charity Challenge (United Kingdom)
Last updated: November 19, 2015