Art of Manliness Contests
With 1,043 comments already, readers are clearly pretty fired up about getting their hands on a pair of Wolverine 1,000 Mile Boots. Who will be the lucky man to bring these sweet puppies home? Get out your rabbit's foot and be sure to enter if you haven't already by leaving a comment about where you'd wear these boots, emailing a friend about the contest, or joining the Community Boot Group. The deadline to enter is Monday at 11 pm EST. In the meantime, check out some of the entries to the contest; many are quite humorous and creative.
Art of Manliness Offers
El Grande Kahuna, friend of AoM and maker of the awesomely manly Hawaiiaberra shirt, is offering a new special to Art of Manliness readers. You can now get the original Hawaiiabera shirt, which are normally 64.95 for only $24.95! Hot dang that's a good deal. Just enter this code when you check out: AOM. If you've been on the fence about buying one of these manly shirts, now's the time to do it.
General Interest Links
Knots and Knotting (@ international guild of knots) Once you've mastered the 7 knots every man should know, check out this site and start learning even more complicated and interesting knots. Many of the knots on this site are decorative. Who knew knot tying could be an art?
How Can I Make Preparing for a Baby Less Expensive (@ one caveman's financial journey) Preparing to welcome home a baby? This article from a guy who calls himself the "caveman" offers 8 tips on how you can save money on your bundle of joy. For example, don't buy one of those $40 diaper Genies. It's just an overpriced waste basket.
10 Life and Money Lessons From Immigrant Parents (@ wise bread) A lot of our grandparents and great grandparents were immigrants. They had to stretch every dime in order to make it in their new country. Here are 10 life lessons we can all take from them.
Around the Community This Week
Community Highlight of the Week: If you were inspired this week by our podcast on the Band of Brothers, you should know that one of the legendary men of Easy Company  passed away this summer: Darrell "Shifty" Powers. Shifty was featured in the HBO series "Band of Brothers." Community member Asa McGuire shared an email that's been passed around the internet about an encounter a man named Mark Pfiefer had with Shifty and the great shame it is that people like Michael Jackson are given national memorial services, but the deaths of real heroes go unsung. Here's our little bit to remedy that. RIP Shifty.
Darrell Powers
13 March 1923 – 17 June 2009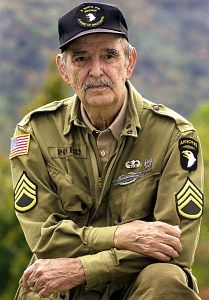 Forum
Christian is thinking of joining the National Guard. Got any advice for him?
Steve wants to participate in a triathlon. Do have any advice on training, preparation, and mental preparedness?
Jamie wants to know: "Who ARE you?
Sept. 23 officially left us with 100 days left in this year. David wants to know what you're going to do to finish 2009 well.
While losing one's job can be a real bummer, some men can turn unemployment into an opportunity to start a business. That's what happened to Mike, and he wants to hear your stories of unemployment and entrepreneurship.
Peter wants to learn how to surf, but alas, he lives in Canada. Where is a good place to learn the sport? Have you been to a surf school or surf camp that you can recommend?
Blake is looking for advice on what to pack for a ski trip.
Terry recently lost his father. He's looking for other men who have lost their fathers to share their feelings about losing their model of manhood.
Groups
Michael started a new group, Veterans of Desert Storm/Shield.
In the PhotoGroup, Mark started a discussion on films and other media about photographers and photography.
In the James Bond Appreciation Club, Jamie asked, "Who would YOU cast as the next James Bond?"
In Heavy Metal Fans, Justyn asked, "How important are lyrics in black or death metal?"
In AoM Audiophiles, Michael started a discussion on headphones.
In the Real Shaving Group, Amateur Adventurer asked for advice on where to buy shaving supplies.
In the Man Bags Group, Robert started a discussion about taking care of your man bag.
In the Manly Character Group, Herb wants to hear about good comebacks from great men.
Blog Posts
Todd wrote a post about the unfortunate way we've destigmatized stupidity.
Andy wrote a post about the passing of a great man you've probably never heard of: Norman Borlaug.
The huhman presented one side of the health care debate and Topher presented another. And Amateur Adventurer argued that health care is not a human right.
Symplectic made a detailed proposal for a new third party: the Farewell Party.
The Yankee Cowboy wrote a post about how you present yourself to others.