Hutch Returns!
Some of you may remember that AoM's contributing writer and resident adventurer Chris Hutcheson had planned to scale Mt. Kilimanjaro and help raise money for Childreach International. Well Hutch is back from Africa and reports that while it was the hardest thing he's ever done, it was awesome and worth it. And as promised, Hutch flashed some Art of Manliness pride at the summit: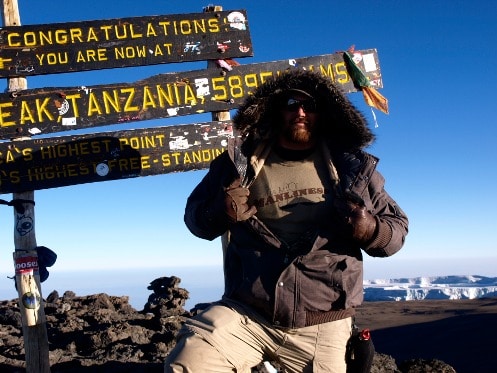 Hutch also went on a photographic safari while in Africa. While driving in their Land Cruiser, a large male elephant came up and bumped the side of the car with its tusks. Awesome.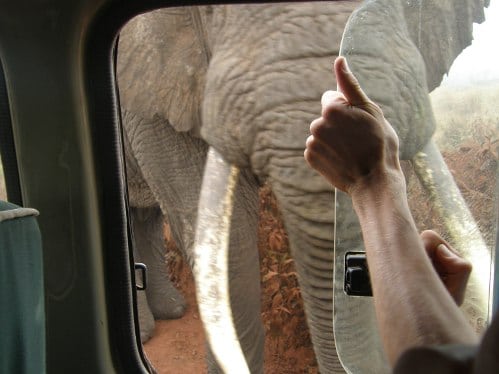 Hutch said he got lots of ideas for AoM articles from his travels, and we can all look forward to seeing them on the site. Welcome home Hutch!
Picks from the Art of Manliness Archives
How to Leave the Perfect Voicemail
When Is It Okay for a Man to Cry?
10 Outdated Men's Fashions That Still Have the Charm
The Community Round-Up
Community highlight of the week: The Community Round-Up involves a lot of links, and I didn't want one of them to get lost. James! posted an amazing comic, "The Killing Jar", that deserves a lot of attention. Thoughtful and powerful. Check it out.
The Forum
Complete this sentence: "Being a gentleman means…."
What are some manly haircuts?
Is there a need for alpha males in today's society?
Todd started a discussion about your morning routine.
Yankee Cowboy started a discussion on the ways a man builds his reputation.
Danny started a discussion on the walking stick. Do you carry one? Would you ever?
Jeff started a discussion on having kids. Does the good outweigh the annoyances or vice versa?
Jamie started a discussion about how you personalize your work space.
Groups
In the Geeks Group, Arnold started a discussion on the ipod versus the Zune.
In the Travel Group, Peter made a case for why every man should visit Africa.
In the Real Shaving Group, symplectic describes the best shave of his life.
The Philosopher's Group discussed:
Would the world be better or worse off without religion?
What if God showed up one day?
Blog Posts
Sam wrote a post about Roy Chapman Andrews.
Yankee Cowboy wrote a post about showing manly confidence.
Haymond wrote a post about why he avoids watching television news.
Edmund wrote a post on true leadership and the difference between bosses, managers, supervisors, and real leaders.
Last updated: September 24, 2009