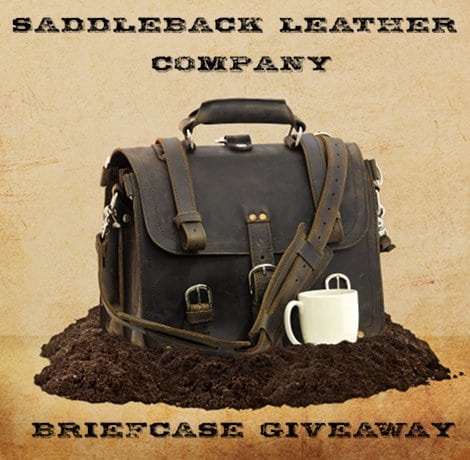 One thing I've noticed about men today is that they carry around too much crap in their pockets. If you need proof, take a look at these pics detailing the contents of AoM readers' pockets. While I understand the desire to have the essentials on you at any time, stuffing our pockets until the seams are bursting probably isn't a good idea. For starters, it just looks bad. Second, it's bad for your clothing. The more stuff you cram in your pockets, the more wear and tear you put on your pocket seams. You can ruin a good pair of pants by doing this. Third, it can be uncomfortable. I hate that feeling when my pockets are weighed down with too much crap.
But what's the modern man to do when he needs to carry his essential items? Enter the briefcase. If your grandfather was a corporate warrior, he probably lugged around a briefcase. While the briefcase went out of style along with gray flannel suits and hats, we at the Art of Manliness feel its high time for a briefcase renaissance. The reason the briefcase doesn't currently enjoy more popularity is that too many men associate it with some boxy, chintzy, metal latched, 1980's version of it. Who would want to carry around something like that? You need a briefcase as manly as you are.  A briefcase that will put so much hair on your chest that it doesn't matter how high you've got that dress shirt buttoned, those tuffs are still going to show. You need a briefcase from the Saddleback Leather Company. And lucky for you, they're giving one away to a very lucky AoM reader. To find out how you can get your hands on one, continue reading.
What a Man Should Carry in His Briefcase
So a briefcase can save our pockets from potential ruin. But in addition to your cell phone and maybe your wallet, what other essential items should a man carry in his briefcase? Below we compiled a quick list of items every man needs in his briefcase:
A Good Book
You never know when you'll have some down time. Instead of wasting it away watching the TV in a lobby or staring at people in the subway, crack open a good book. By reading during your free time, you can easily polish off a few books a month. Your brain and soul will thank you. For suggestions on which books you should carry with you, check out our 100 Must Read Books for Men, 50 Fiction Adventure Books, and 50 Non-fiction Adventure Books.
Umbrella
The weather can go from sunny skies to dark and cloudy in a matter of minutes. Don't be caught out in the rain without an umbrella. Even if you're not a big umbrella guy, at least have one with you so you can cover the head of an unprepared lady. It's the gentlemanly thing to do.
Extra Cash
It's always a good idea to carry some extra cash with you. It's good for paying for emergency roadside assistance, buying a hot dog from a street vendor, or greasing the palms of a helpful bell hop.
Notebook
Been wanting to start a journal, but just can't find the time? Or maybe you get million dollar ideas, but forget them because you don't write them down. By keeping a durable notebook in your briefcase, you can solve both of these problems. Whenever you have a spare moment, bust out your notebook and make a quick journal entry. Or if you read or hear a memorable quote or get a killer idea for your business, write it in there, too. I also like to have my notebook handy so I can go back and read through it whenever I have a moment.
Simple Stationery
Having a set of classy, yet simple stationery in your briefcase can do wonders for your career. After a job interview, whip out a card, write a handwritten thank you note, and drop it off with the secretary. If a fellow co-worker receives an award, write a short congratulatory note. While it's a small gesture, it can reap huge rewards professionally.
Calling Cards
A calling card can come in handy in any social situation in which you want to exchange your personal information with someone. It's an essential networking tool. Meet a potential lead for a new job? Give them your calling card. Talk to a lady that meets your fancy? Boom! Calling card for her. Not only is the calling card an effective tool to share your email or Twitter address, they'll set you apart from the millions of men who are still using plain old business cards.
Mixed Nuts
A man's got to eat, so be prepared for when hunger strikes. Mixed nuts are the perfect man snack. They've got fiber to fill you up, are filled with protein, and have lots of good fats to help increase your testosterone.
Newspaper
We hear a lot about the death of the newspaper industry, how the web is the way of the future, and that we'll be getting our news on our cell phones and other do0-hickies. But I still think good old fashioned newspapers beat digital news. First, it's more durable. Spill water on your Blackberry, news source is gone. Spill water on newspaper, you can still read it, it will just be wet. And a newspaper never needs to be charged. Second, it's easier to read. I don't know what it is, but I have a hard time reading large amounts of text on a computer screen. If that screen is on a mobile phone, fah-get about it! I'm not reading. Third, you can mark it up. You can't take a pencil to a computer screen to do a crossword puzzle. Finally, I just like how newspapers and magazines feel. What can I say? I'm a tactile guy.
A manly man is a prepared man. Be prepared by stocking your briefcase with this handy survival kit you can store in an Altoids can. Field and Stream gives you a step by step guide on how to cram all your survival needs into a single Altoids can. I'm not sure when you'd need a Commando Wire Saw during a commute to the office, but I guess you never know.
USB Keychain with Your Resume on It
Imagine this scenario: You show up to a job interview. You're dressed to kill and have your confident handshake down pat. You look into your manly Saddleback briefcase to pull out the resumes you printed off this morning and…. NO! You took your kid's homework instead! A simple tactic you can use to avoid a situation like this is to carry a USB drive with your resume it on it. If you ever forget yours, you can always plug your USB into a computer and print a new one off.
The Prize
So we know what we need to carry in a briefcase. Now we just need to get our hands on one. The Saddleback Leather Company is giving away the uber manly dark coffee brown large leather briefcase. Just looking at this fine piece of leathermanship makes you feel more manly. Saddleback's briefcases are the creme de la creme. When you die, your grandchildren will fight over who gets it. The large briefcase retails for $535.
How to Enter
So how can you get your hands on this awesomely manly prize? You have 3 ways to enter your name in a random drawing for a Saddleback man bag:
Leave a comment under this post sharing what you think are the essential items in a man's briefcase.
Join the Art of Manliness Community's Man Bag Group. In order to join the group, you have to be a member of the AoM Community.
Share this post with your friends using the "Email Story to a Friend" button in our "Share" Box at the bottom of the post. For each friend you email this post to, you'll receive one entry in the contest. This means the more friends you share it with, the more entries you get. You can only send 10 at a time, but feel free to come back and esend some more.
Deadline to enter is Thursday, July 30 at 11PM EST. Enter early and often.
Last updated: October 31, 2013