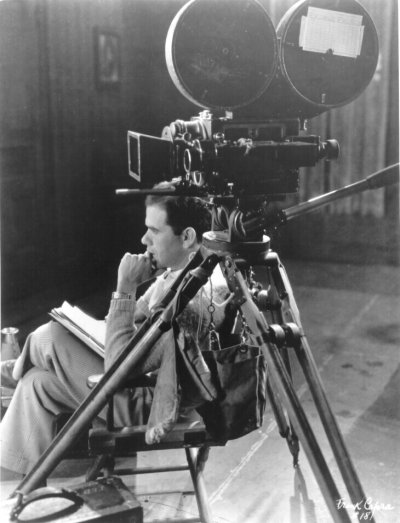 For whatever reason (most likely the fact that viewing is easier than reading), films don't seem to get the same kind of cultural respect as books do. Which is a shame because excellent movies can be just as entertaining, mind-expanding, and life changing as good books. Scenes, characters, and quotes from the greatest movies stay with us long after we view them. Their ability to transport you to different times and exotic locations, to completely absorb you in the story, make movies one of the closest approximations of real magic we have in this world.
And for better and for worse, film has had a huge impact on masculinity in the 20th Century. Movies have produced archetypes of manliness that many men judge themselves against today. To view how male characters of cinema have been portrayed over the decades, is to see clearly the ways in which our perception of masculinity has changed and continues to change. Thus it seemed only proper that The Art of Manliness take a stab at creating a list of essential movies every man should see.
We didn't want to make a list of movies that consisted solely of violence and gratuitous T and A that make up most guy movie lists. Nor did we want to create a list of just independent avant-garde movies that while culturally or cinematically significant, aren't very entertaining. We wanted to create a well rounded list of films that have something to say about manliness. Some of the movies speak poignantly about what it means to be a man. Others give examples of true manliness in action. Some are lessons in how not to be a man. And others are simply entertaining movies that are just plain manly. But the common thread that runs through all of them is that they're great movies that have stood the test of time.
Let us know in the comments which movies you loved, which ones you hated, and the movies you think every man should see before he dies. Without further ado, we present The Art of Manliness 100 Must See Movies for Men.
This group of Allied POWS fought the enemy the best way they could – by bustin' out of prison. Based on a true story, the film has been hailed as one the greatest escape movies of all time. Despite its length (172 minutes), the movie maintains interest through the engaging relationships of the prisoners. Each individual contributes their skills and personality to the effort, even the self-interested American (played by Steve McQueen). I guess his skill would be making killer motorcycle chase scenes.
Best line: "I'm going… out."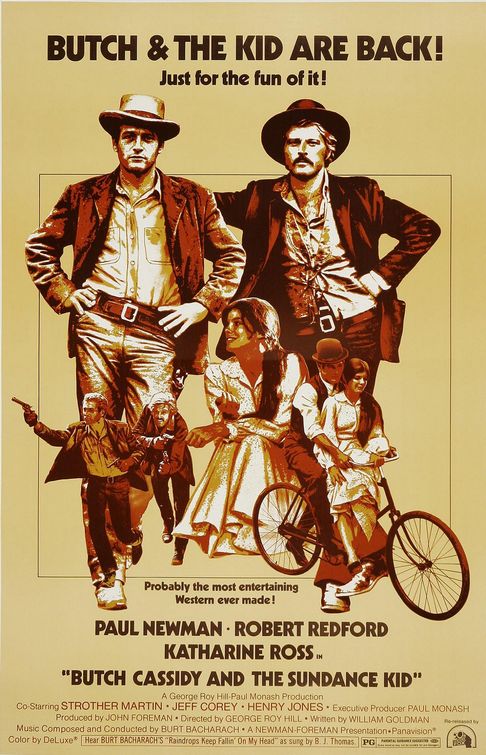 Based loosely on the real lives of Western outlaws Robert Leroy Parker (aka Butch Cassidy) and Harry Longabaugh (aka the Sundance Kid), Butch Cassidy and The Sundance Kid is a classic movie about two buddies trying to make it in a changing world. What's funny about Butch Cassidy and the Sundance Kid is that you forget that these guys were hardened criminals who robbed banks and trains for a living. The easy going charm Robert Redford and Paul Newman bring to their roles makes you like the characters despite their choice of profession. Their clever hijinks and humor make the movie an enjoyable ride.
Best line: "Boy, I got vision, and the rest of the world wears bifocals."
Cops that won't let anything – even the law – stand in their way of catching the bad guy may have become a Hollywood cliché, but when Dirty Harry first pulled out his .44 magnum it was a brand new story. Harry Callahan stops at nothing as he hunts down the Scorpio, a serial killer that picks people off with a sniper rifle. The plot isn't bad, but it's Clint Eastwood that drives the entire picture. His rebel good- guy cop set a high mark for others to try and follow.
Best line: "You've got to ask yourself one question: 'Do I feel lucky?' Well, do ya, punk?"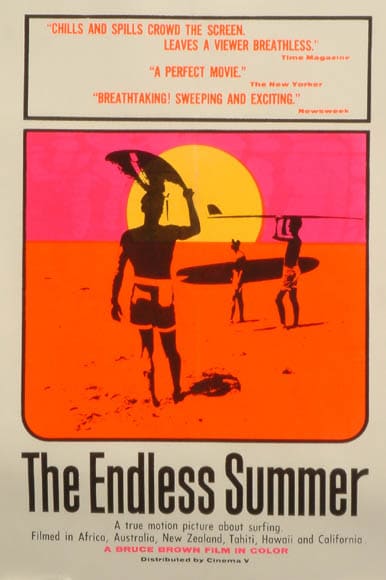 Working 60 hours a week sucks. I mean, it really sucks. The idea of travelling around the world to exotic spots with the simple objective of surfing every chance you get is about the most enticing thing on the planet. In step Mike Hynson and Robert August. Famed documentary director Bruce Brown follows the pair around the world as they chase the summer and whatever waves they can ride. If you can't surf, or you can't take the time off work to surf – live vicariously through this movie.
This movie is great for many reasons – of which, I cite two: 1) Kevin Costner can actually play baseball, instead of looking like a moron as do many other actors trying to swing a bat. 2) Tim Robbins character wears lingerie when he pitches – which is completely classic. Besides these, there are many other elements that make the movie relevant: the mentor/mentee, the old vs. the young, fighting for the woman, baseball. But ultimately it's about a bunch of guys trying to make their mark on life – which we can all certainly relate to.
Best line: "Charlie, here comes the deuce. And when you speak of me, speak well."
Do nice guys always finish last? Not necessarily. The Apartment is a true gem of a movie that doesn't seem get the attention it deserves. Both dramatic and funny, the film is a dark comedy about a corporate drone who finally gets tired of being constantly walked on, mans up, and becomes a mensch. Things don't always work out when you do the right thing, but sometimes they do.
Best line: "Shut up and deal."
Nobody wants to die alone. Especially gunslingers. In a haunting portrayal that foreshadowed his own fate, John Wayne plays J.B. Brooks, an aging gunfighter dying of cancer who resigns himself to live out his days in private. But skeletons from his past prevent him from fading away, so he decides to go down the only way he knows – with his six gun blazing.
Best line: "I won't be wronged. I won't be insulted. I won't be laid a-hand on. I don't do these things to other people, and I require the same from them."
At its core, Hoosiers is about redemption – basketball is just the vehicle. The story revolves around a basketball coach that has fallen from grace and finds himself at a small rural town in Indiana. He ruffles feathers and fights to earn the respect of his players, the town, and a doubtful teacher. The team chases glory, while others in the town remember what it is like to win. Not only is it one of the most inspiring movies of all time, it has one of the most hardcore stoics in all of sport movie history. Jimmy = Clutch.
Best line: "You know, most people would kill… to be treated like a god, just for a few moments."
This movie set the standard for war epics of the modern era. Few are its equal. A Mohican father and his son, along with their adopted son, attempt to maintain their neutrality amidst the French-Indian War in colonial America. The men are pulled into the fray after rescuing two daughters of a British Officer during a skirmish and escorting them to their father's fort. As the impending battle builds around them, the men remain devoted to the daughters, going to great lengths to preserve them. From the opening sequence of Uncas and Hawkeye sprinting through the dense forest, to the final scene on the promontory, the movie is gripping and powerful. Additionally, they play lacrosse in this movie – that fact alone secured its place on this list.
Best line: "Someday I think you and I are going to have a serious disagreement."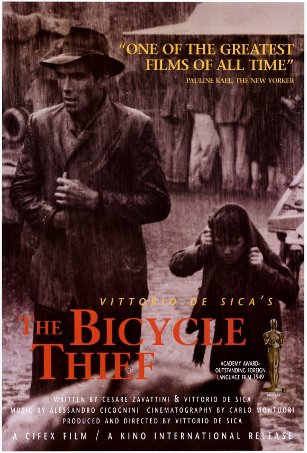 An Italian Neo-Realist classic, The Bicycle Thief tells the bleak story of a man in impoverished post-war Italy whose bicycle, which he needs to work, is stolen. Father and son hunt all over Rome to find the bike, with no one to help them and ultimately no success. And thus the father is faced with a classic philosophical problem: is it okay to steal to feed your family? Realistic and honest, this movie provides one of the best glimpses into the nature of the father/son relationship.
Best line: "Why should I kill myself worrying when I'll end up just as dead?"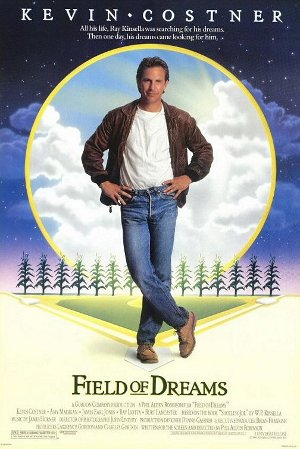 To what lengths would a person go for a chance at reconciliation? If it is for your (dead) father, most of us would do anything. Field of Dreams is Ray Kinsellas's journey of reparation with his father. Ray, an Iowa farmer, erects a baseball field in his cornfield after a voice tells him, "If you build it, he will come." The voice continues, and after a series of mysterious and supernatural events, he is able to make amends. It is quite possible that a game of catch can heal most wounds between a father and son – even death, I suppose.
Best line: "If you build it, he will come."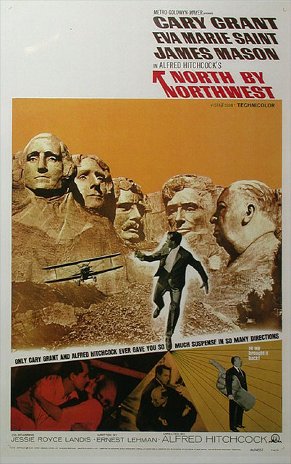 Starring dapper dude, Cary Grant, North by Northwest is classic Alfred Hitchcock. Grant plays a hapless New York advertising executive mistaken for a government agent by a group of foreign spies, and is pursued across the country while he looks for a way to survive. The problem is the government thinks he's a spy, too, and they're on the chase as well. Talk about a bad day.
Best line: "I don't like the way Teddy Roosevelt is looking at me."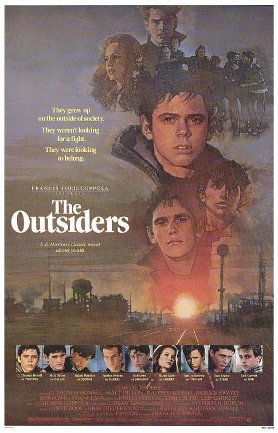 The film adaption of SE Hinton's famous novel perfectly captures the tumultuous nature of teenage angst. The well-to-do Socs and blue collar Greasers hate each other's guts, and when Johnny the Greaser kills a Soc, a series of dramatic and tragic events are set in motion, including an old fashioned rumble. The film is a star-studded affair, filled with the likes of Rob Lowe, Emilio Estevez, Matt Dillon, Tom Cruise, Patrick Swayze, Ralph Macchio, and Diane Lane, many before they were household names. And best of all, it was shot on location in my home city of Tulsa.
Best line: "Stay gold, Ponyboy, stay gold."
The more weighty issues in First Blood are usually overshadowed by the gratuitous action. Understandably so, but the movie is built on Rambo's struggle to return to society after the Vietnam War. A Medal of Honor recipient, Rambo is kicked out of a small town and then arrested for vagrancy. The sheriff and his deputies go overboard with torture and Rambo reverts back to what he does best. Nothing good can come from pissing off a guy named Rambo.
Best line: "They drew first blood, not me."
A Cold War classic starring Frank Sinatra in probably his best movie performance. The film was so controversial that it was banned from further release after JFK's assassination. The Manchurian Candidate focuses on the way in which propaganda and the manufacture of political views can influence one's perception and behavior in the most provocative of ways. The story follows several former Korean War soldiers who have been brainwashed by the military. Follow them as they try to unravel the source of the reoccurring nightmares. A real thriller. Don't bother with the Denzel Washington version. The original is still the best.
Best line: "There are two kinds of people in this world: Those that enter a room and turn the television set on, and those that enter a room and turn the television set off."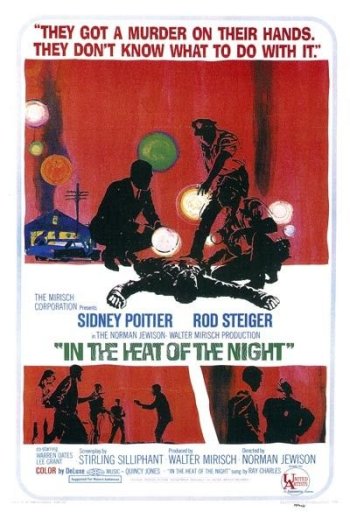 Virgil Tibbs (Sidney Poitier), a respected detective from up North, is thrown into a murder investigation in the small town of Sparta, Mississippi. While he initially doesn't want any part of the case, Tibbs exemplifies manly resolve as he sticks around, staring down bigot after bigot while searching for the murderer. The film is famous for a scene in which Tibbs, after being slapped by a white man, slaps him right back. The screenplay originally called for Poitier to simply take it, but the actor found this passive response degrading and insisted he be allowed to hit back. That my friends, is being a man. You slap me in the face, I'll slap you right back, Sucka.
Best line: "They call me MISTER Tibbs!"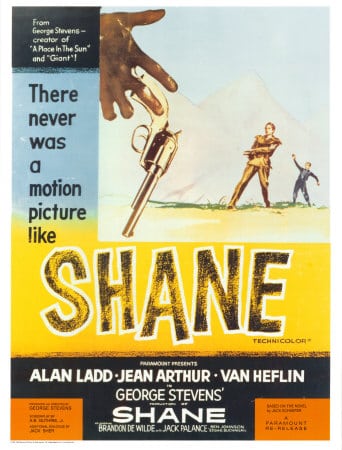 A quiet gunslinger who is trying to escape his past befriends a pioneer family that has settled out west. He attempts to settle down and become a hired hand to the family, but the ranchers who want to drive cattle through the homesteaders' property are attempting to drive them out. Shane tries to stay out of the disputes, but keeps being drawn in and is finally compelled to put his six shooter back on to protect his adoptive family. Perhaps the most touching part of the movie is the relationship Shane develops with the farmer's son.
Best line: "A gun is a tool, Marian; no better or no worse than any other tool: an axe, a shovel or anything. A gun is as good or as bad as the man using it. Remember that."
Perhaps the greatest American contribution to the film noir style, Double Indemnity is dark rumination on greed, manipulation, and betrayal. Barbara Stanwyck plays a classic femme fatale who uses her womanly wiles to lure insurance salesman Walter Neff into a plan to kill her husband for the "double indemnity" payout. But Neff is not a guileless victim after all. Palatable tension, suspense, and snappy dialogue make this film a true classic.
Best line: "How could I have known that murder could sometimes smell like honeysuckle?"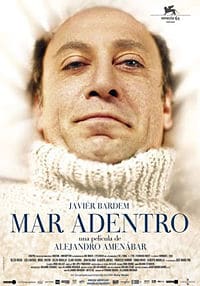 Politics of euthanasia aside, living is so much more than just breathing. Based on the life of Ramón Sampedro, the movie examines the fight to end his own life after 30 years of being paralyzed from the neck down. Despite his desire to end his life, through his courage and self awareness, he inspired others to embrace their own.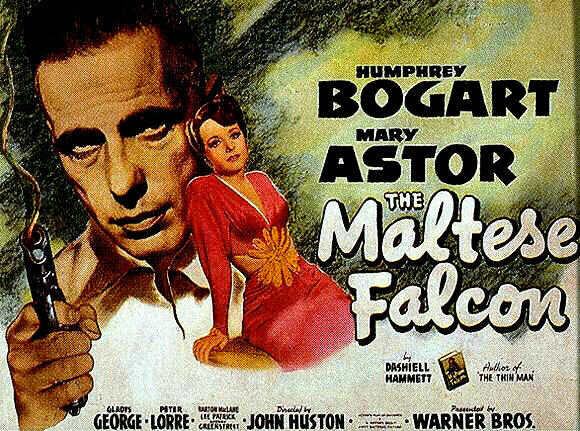 The Maltese Falcon is filled with ambiguities in morality. Sam Spade, played by Humphrey Bogart, is a hardened and cynical man. But underneath his rough exterior is a man with a sense of idealism. Spade lives by a code of honor that doesn't let him take the corrupt and easy solution to life's problems. The Maltese Falcon forces us to answer a simple question: when push comes to shove, will we stick to our own code of honor or will we sell out?
Best line: "[It's the] stuff that dreams are made of."