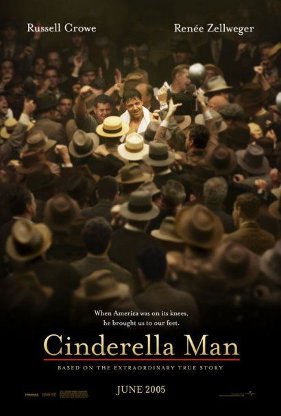 A validation of self-worth can be a powerful element to sustain a man. After an injury caused James Braddock to plummet from the top of the boxing world, he struggled to survive and provide for his family through the Great Depression. At nearly the breaking point, he gets a chance to fight again. Everyone expected him to be an easy opponent, but a desperate and hungry man can be extremely dangerous. He wins the fight and continues to win, leading him to fight in the heavyweight championship. Braddock's true story is about more than boxing; his rise, fall, and dream of redemption mirrored the whole nation's hopes.
Best line: "I have to believe that when things are bad I can change them."
From the breaking of the sound barrier by Chuck Yeager to the space flights of the Mercury 7 astronauts, the movie provides an inside look at the American side of the space race. The flaws and reality of the program are exposed along with those of the astronauts. They were human – which makes them all the more heroic.
Best line: "What Gus is saying is that we're missing the point. What Gus is saying is that we all heard the rumors that they want to send a monkey up first. Well, none of us wants to think that they're gonna send a monkey up to do a man's work. But what Gus is saying is that what they're trying to do to us is send a man up to do a monkey's work. Us, a bunch of college-trained chimpanzees!"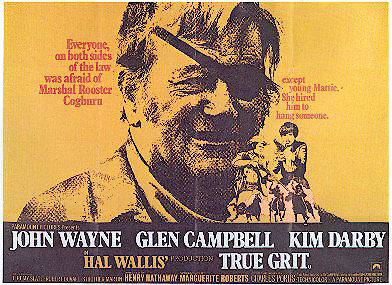 As westerns go, is there any greater than those starring John Wayne – and here the eye patch only makes him more hardcore. Hired by a young girl to track down the man that killed her father, Wayne takes on the role of Rooster Cogburn, the marshal with "grit" enough to bring the man to justice. Despite his failing health, John Wayne played the ailing law man to an Oscar-winning performance.
Best line: "Well, a gun that's unloaded and cocked ain't good for nothin'."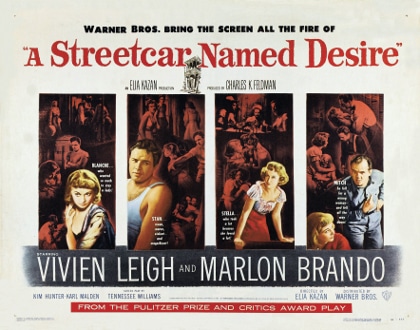 Sometimes people are just barely hanging on to their sanity. Those around them can either talk them off the ledge, or push them over it. Case in point: Blanche Dubois. Now this chick may have been a few cards short of a deck to start with, but at least she was holding on. Stanley may be the perfect example of how a man should never treat a woman. If the man had any ounce of sympathetic understanding to replace his uber-brutish machismo, Blanche may have turned the corner into the land of the functional. Instead he humiliates her, rapes her, and then has her committed.
Best line: "Stella!"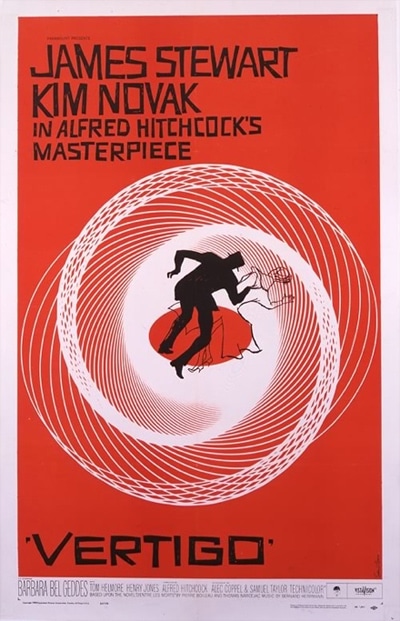 Hailed as one of the greatest movies of all time, the film captures a man's descent from sanity as the effects of his acrophobia prevent him from saving the woman he came to love. Of course, the movie wouldn't be a Hitchcock classic if there weren't some crazy twists thrown in there. The character played by Jimmy Stewart suffers from an intense fear of heights and strange events continue to unfold as a result. Mix in some shadowy women, a little murder and you've got one of the greatest mystery films ever made. Moral of the story: get over your fear of heights before people start dying.
Best line: "You shouldn't keep souvenirs of a killing. You shouldn't have been that sentimental."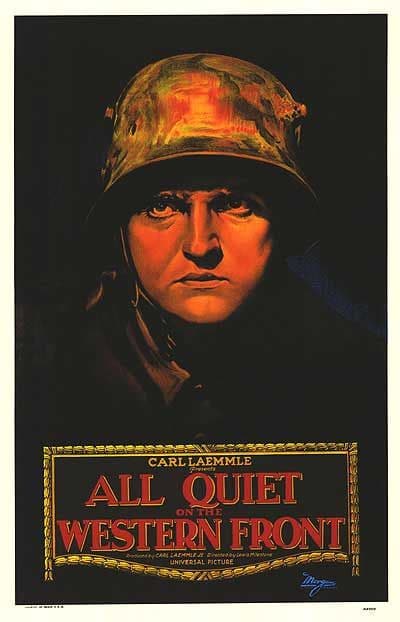 All Quiet on the Western Front is the godfather of modern war movies. Almost all pay homage in their execution or effect. The film is from the eyes of German soldiers fresh to the front lines in WWI. The story follows Paul as he and his buddies question the politics of war and other atrocities they face. As those in the group continue to die, even when they are supposed to be out of harm's way, the futility of war becomes ever more apparent. A glimpse into the mind of those that fight, the film was groundbreaking in its intense portrayal of the frontlines.
Best line: "You still think it's beautiful to die for your country. The first bombardment taught us better. When it comes to dying for country, it's better not to die at all."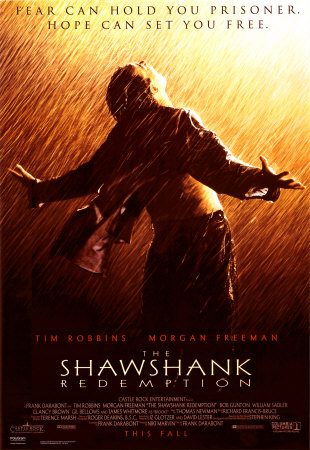 Several themes run deep in this adaptation of Stephen King's novella. Not to get too philosophical on you, but I could spend days digging through all the elements this movies presents. Andy, a banker, (Tim Robbins) is falsely imprisoned for the murder of his wife and her boyfriend. In prison he develops a friendship with Red (Morgan Freeman), and they do whatever it takes to survive. In the morally bankrupt world of the prison, Andy maintains his integrity and relies on his unfounded hope in the world. I guess I probably shouldn't use the word "redemption" to describe the movie because it's actually in the title, but it's how this redemption is achieved that makes the story shine. Hands down, a movie for the ages.
Best line: "Get busy living or get busy dying."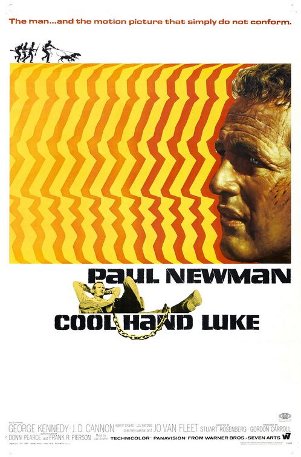 At first glance, this movie seems like just another slacker anti-establishment movie, and maybe it is, but what makes this movie great is the layers of interpretation that can be applied to it. Luke (Paul Newman) is sent to prison camp for vandalizing parking meters and faithfully resists whatever authority is thrown at him. Though gaining the admiration of his peers with his non-conformist attitude and escape attempts, the prison officials brutally punish Luke to break his spirit. Eventually they do and Luke is abandoned by his admirers. One last escape attempt leads Luke to a final confrontation. Take whatever path of interpretation you want, religious to existential to just about anything – Cool Hand Luke speaks to the rebel in all of us. R.I.P. Paul Newman. Thanks for all the manly times.
Best line: "What we have here is a failure to communicate."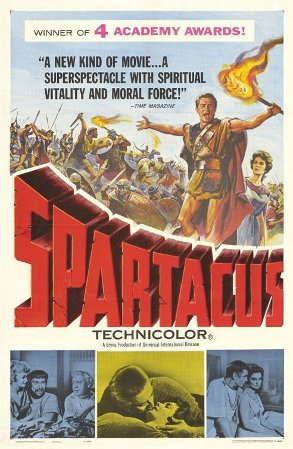 Gladiator/Slave revolts – does it get any more inspiring? You're forced to fight some dude for no reason, they take the woman you love, the crap just keeps piling up and there's really no other choice – let's take on the most powerful empire on the planet. Sounds crazy, but Spartacus almost pulled it off. Rallying the oppressed around him, he led one of the largest revolts of all time. In one of the most memorable scenes in movie history, while facing certain death, his men stand up and proclaim "I am Spartacus" to preserve their leader from crucifixion. That's some serious loyalty, gentlemen.
Best line: "I am Spartacus."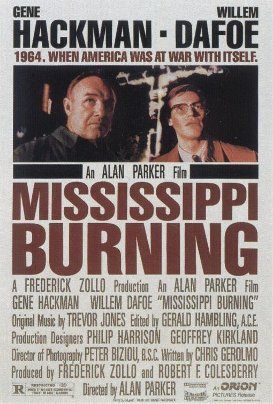 Based loosely on the true story of the murder of 3 civil rights workers in 1964, Mississippi Burning follows the FBI's attempts to bring the perpetrators of that crime to justice. The film centers on two of the Bureau's agents, Alan Ward (William Dafoe) and Rupert Anderson (Gene Hackman). Ward wants to conduct the investigation by the book, while Anderson, who is from Mississippi, understands that using more, let's say loosely legal tactics, is the way to go. Like threatening the deputy sheriff with a deadly straight razor shave. Nice.
Best line: "With an old man who was just so full of hate that he didn't know that being poor was what was killing him."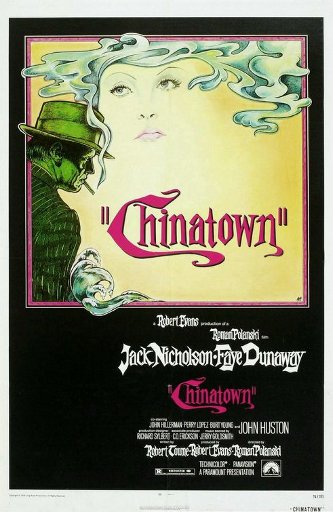 Who would have thought stealing water would lead to such craziness? Nicholson is at his hardcore finest as a private eye that sheds light on a huge scandal involving real estate, dams, water, some unsuspecting senior citizens, and even incest. That's a really random list, but it clearly worked for a lot of people – it was nominated for 11 Academy Awards.
Best line: "Forget it, Jake, it's Chinatown."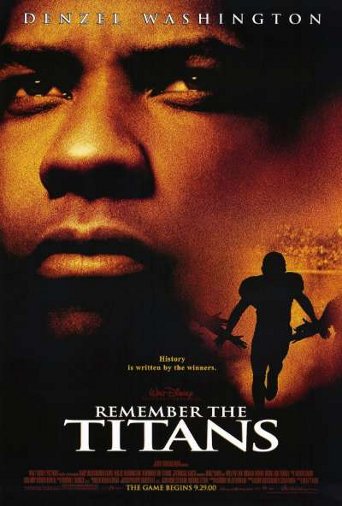 Nothing brings people together like football and desegregation. In the early 1970's, two schools in Virginia (One of black students and one of white students) are forced to combine in order to comply with federally mandated desegregation. Herman Boone (Denzel Washington) is selected as the head coach of the football team over the current successful white coach. The town goes crazy. The team goes crazy. The coaches go crazy. But the team comes together and they play a dream season for their new coach. I love this movie. I forget how much I love it until it comes on TV, and I can't change the channel. I seriously wish Denzel Washington was my football coach. I would have destroyed everyone.
Best line: "This is where they fought the battle of Gettysburg. Fifty thousand men died right here on this field, fighting the same fight that we are still fighting among ourselves today. This green field right here, painted red, bubblin' with the blood of young boys. Smoke and hot lead pouring right through their bodies. Listen to their souls, men. I killed my brother with malice in my heart. Hatred destroyed my family. You listen, and you take a lesson from the dead. If we don't come together right now on this hallowed ground, we too will be destroyed, just like they were. I don't care if you like each other of not, but you will respect each other. And maybe… I don't know, maybe we'll learn to play this game like men."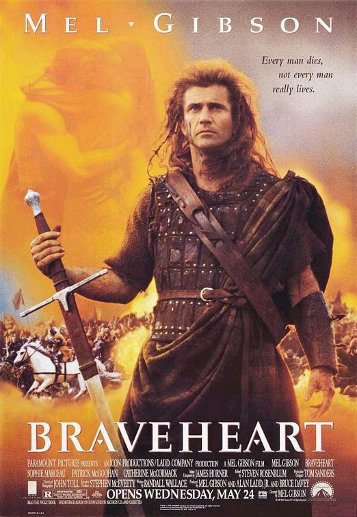 Mistake #1: Primae Noctis? Are you crazy, Long Shanks?
Mistake #2: Slicing up William Wallace's woman? Are you asking to get your fort burned down? Never hack off a Scotsman.
Mel Gibson's portrayal of the battle painted warrior poet William Wallace is easily one of the greatest heroes in all of movie history. I refrain from commenting on historical accuracies, but The Battle of Stirling is one of, if not the best battle scene of all time. I can say no more.
Best line: "Every man dies, not every man really lives."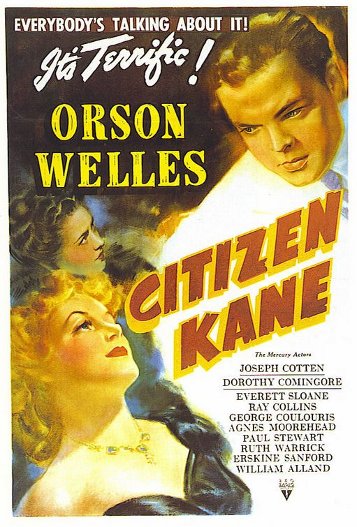 Citizen Kane is not only a classic film frequently ranked as the very best of all time, it's also a handy primer on how not to be a man. Don't let power corrupt your soul; don't let pride crush your relationships; don't push everyone away until you die alone, an arrogant jerk with his just desserts. And don't get so hung up on childhood memories that you can never build a life for yourself.
Best line: "Maybe Rosebud was something he couldn't get, or something he lost. Anyway, it wouldn't have explained anything… I don't think any word can explain a man's life. No, I guess Rosebud is just a… piece in a jigsaw puzzle… a missing piece."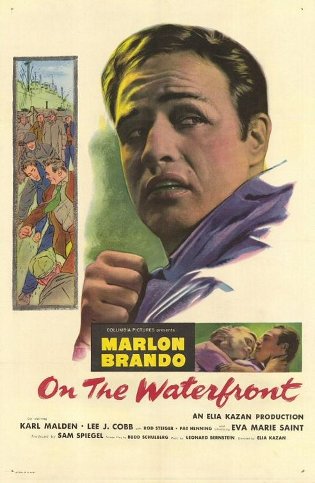 It's the story of longshoreman and ex-boxer Terry Malloy (Marlin Brando) who is blackballed and savagely beaten for informing against the mobsters who have taken over his union and sold it out to the bosses. During the film we see Malloy become aware of his personal power to fight and eliminate the corruption that surrounds him. It's a classic story of one man defying insurmountable odds to fight for what's right.
Best line: "You don't understand! I coulda had class. I coulda been a contender. I could've been somebody, instead of a bum, which is what I am."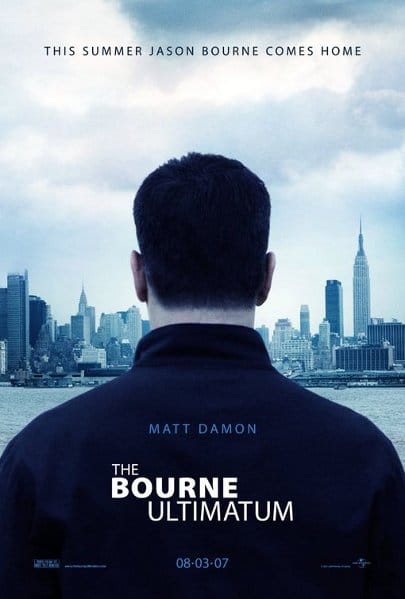 I truly believe, that deep in our hearts, all men want to be assassins. I don't know if it is the mystique, the weapons, the fact that you are a killing machine, or whatever; assassins may very well be the top of the food chain. But what makes the Bourne movies so watchable, is that they don't rely solely on Jason Bourne kicking the crap out of people. Of course that element is present, but Matt Damon is able to bring the character to the forefront. It is the relationships that Bourne builds with himself and others that keep the films from crossing over into the cliché. That and killing guys with pens and/or magazines.
Best line: "I can tell you the license plate numbers of all six cars outside. I can tell you that our waitress is left-handed and the guy sitting up at the counter weighs two hundred fifteen pounds and knows how to handle himself. I know the best place to look for a gun is the cab of the gray truck outside, and at this altitude, I can run flat out for a half mile before my hands start shaking. Now why would I know that? How can I know that and not know who I am?"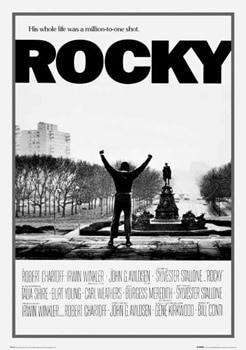 I love a good underdog story, and Rocky is the king of them all. The movie poster's tag line sums up the movie pretty well: "His whole life was a million-to-one shot." Sylvester Stallone plays Rocky Balboa, a two bit working class boxer from Philadelphia who gets the chance to fight the world heavyweight champion of the world. The training montage with Rocky running up the stairs of the library at the end is a cultural icon and still inspires men to get off their butt and start exercising. Cue "Eye of the Tiger."
Best line: "I just want to say hi to my girlfriend, OK? Yo, Adrian! It's me, Rocky."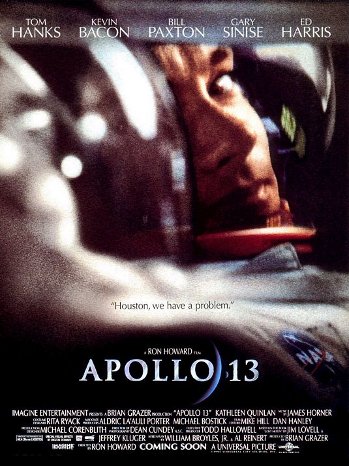 I don't think you could dream up a worse situation: stuck in a tin can, floating around in outer space with no power and running out of oxygen. The now famous line "Houston, we have a problem," is definitely an understatement. Three guys trapped in a disabled shuttle after a trip to the moon goes horribly wrong, and all they have to save them are some of the greatest minds on the planet. Using some killer brain power and whatever junk they can find around the ship, NASA tries to bring these boys back home.
Best line: "With all due respect, sir, I believe this is gonna be our finest hour."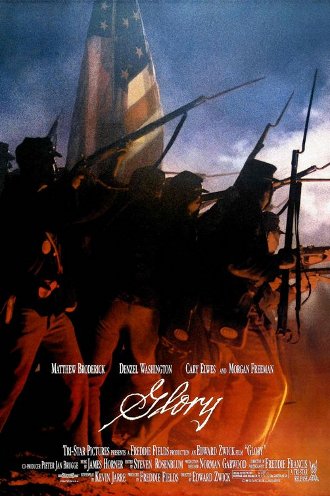 Overcoming prejudice, the men of the 54th Massachusetts become one of the first units in the US Army to be made of up African American volunteers. In the face of a decree claiming that any black man caught fighting for the Federal Army would be hanged and any white officer leading those men would also be executed, the group fights to prove themselves to their own Union Army as well as the enemy Confederates. Lead by Col. Robert Gould Shaw, the unit makes a valiant but unsuccessful attempt to take Ft. Wagner – losing half their men in the process, but gaining respect and admiration for their bravery.
Best line: "Give 'em Hell '54!"
In an Oscar-winning performance, Jack Nicholson plays the part of criminal who pretends (or is he?) to be crazy in order to placed in a mental hospital instead of prison. The patients there are under the oppressive, icy watch of Nurse Ratched. R.P McMurphy (Nicholson) sets out to give the patients some optimism, happiness, and freedom, while also driving Nurse Ratched crazy. There's no big action scenes or special effects, almost the entire movie is set in the hospital, and yet the characters and McMurphy's rebellion against the soul-sucking nature of the institution makes for a story that will stick with you for a long time to come.
Best line: "But I tried, didn't I? Goddamnit, at least I did that."