Yesterday we announced the launch of the 30 Days to a Better Man Project and the response has been great. So far over 160 men have publicly made a commitment to making themselves a better man by joining the 30 DBM Community Group.
If you haven't already, make sure to sign up. Also, tell your friends about it. The more the merrier.
Let's take a look at some links.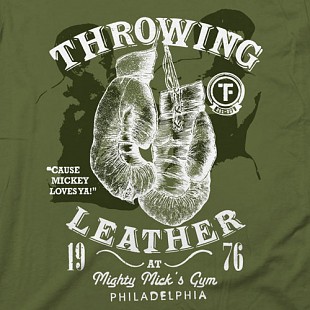 Tankfarm Clothing. Tankfarm Clothing is a company started by two brothers who are fourth generation printers. They describe their design style as New American Vintage, and they consistently put out some wicked cool designs (see above). And they also happen to be some of the very nicest men around. Tankfarm and AoM will be teaming up, with Tankfarm designing some new tees for us. And let me just tell you, they are going to be sa-weet.
'Power' move by male students ruffles U. of C. (@chicagotribune.com)University of Chicago student, Steve Saltarelli, has started a student organization called Men in Power. The group hopes to "host pre-professional groups in law, medicine and business, foster ties with alumni, bring in speakers to discuss masculinity and mentor local middle school students as part of its 'Little Men in Power' program." Sounds like a worthy cause, and I hope other manly college students start similar groups at their schools. Of course not everyone is happy about it. Feminist groups are empowering; men's groups are misogynistic.(Hat tip: N. Zach Ratkai)
Dear Donna:  A Pinup So Swell She Kept G.I. Mail (nytimes.com). Awhile back ago, we did a post about your grandpa's babes, showcasing some of the lovely pinup girls of yesteryear. Some commenters argued that looking at pinup girls was the same as looking at porn. But to me you're comparing apples and oranges there, and this NYT article shows you why. It talks about how the military actually encouraged the pinup phenomenon as a way to boost morale, and how GI's would write earnest and thoughtful letters to pinups like Donna Reed.
To quote the article: "Taken as a whole, the correspondence offers a candid glimpse of a vanished era, a time when six hard-bitten Marine sergeants could write that 'we think you're swell' and mean it in something other than an ironic sense. 'The boys in our outfit,' Sgt. William F. Love wrote on Aug. 18, 1944, from the jungles of New Guinea 'think you are a typical American girl, someone who we would like to come home to!!!!!' On March 28, 1944, Sgt. John C. Dale of Tennessee, a tail gunner on a B-17, told Ms. Reed, then 23, that he wanted her 'to be the girl back home that I am fighting for.' I wonder if Jenna Jameson has gotten letters like that? Doubtful.
The Case for Working with Your Hands (@nytimes.com). In our time, shop class has been removed from high school, college is sold as mandatory for every American, and working with your hands is looked down upon. In this article, Matthew B. Crawford brilliantly shows how wrong-headed such ideas are. Crawford went to grad school and took jobs writing abstracts for research articles and working at a think tank. And yet, while society told him that such white-collar work made him a "success," he found the work mind-numbing and utterly unsatisfying. He found true fulfillment from quitting those jobs and working as a motorcycle repairman (and writer). It's been one of the NYT's most emailed stories all week, so it's clearly hitting  a nerve with many folks. I'll definitely be checking out his new book: The Case for Working with Your Hands.
The Art of the Marinade (@thesimpledollar). With Memorial Day last weekend, we've been talking about grilling here on the blog. While there's something to be said for simply enjoying delicious meat garnished only with salt and pepper, marinades offer a little variety to your carnal consumption (especially if the cut of meat is not so primo and could really use a little doctoring up). Plus, as Trent explains, they cost only pennies to make. If you're looking for some tasty marinade ideas, check out this post.
Around the Community This Week
Here are some highlights of what's been going down on the AoM Community this week:
I started the "30 Days to a Better Man" group. Join up and share your progress with the 30 Days to a Better Man Project which starts on Monday.
John Smith is seeking advice about whether or not he should join the military.
Clint James has started a "Man Maintenance Calendar" to remind you to get things done in your life. He's looking for suggestions on what to add to the calendar.
The huhman posted a moving video tribute to Michael Monsoor, a Navy Seal who threw himself on a grenade to save his friends. Have a hanky ready and prepare to get a little misty-eyed if you watch it.
Bob Carpenter started a Pilots Group and has been posting some great pics and video.
As part of the Big Questions series in the Philosophers' Group, Shaun Daws has posed the questions: "Why is there so much opposition to gay marriage?" and "Is euthanasia ethical?"
In the Velo Men Group, Jamie Fellrath started a discussion on biking related hints and tips.
There's been good discussion on a question The Plainsman posted in the Autodidacts Group on Zen and the Art of Motorcycle Maintenance and having a Classical vs. Romantic mind.
James Milholen has been working his way through the beers made by the St. Georges Brewery in his hometown of Hampton, VA and posting his taste reviews. This week he reviewed their Nut Brown Ale.
Last updated: October 20, 2010