Well, the voting for the Art of Manliness Man of the Year ended last night and we have a winner: Matthew Chancey from Ashville, Alabama is the 2008 Art of Manliness Man of the Year. Matthew's wife nominated him, and you can read her nominating essay here. Voting was open to the public for the past three weeks, and Mr. Chancey received 2,970 votes. Matt will be receiving the $2,000 cash prize sponsored by Old Spice along with a manly assortment of Old Spice products. Congratulations, Matt. Right now Matt's in Africa working for his non-profit. Below is a pic from his travels. His $2,000 prize will be going to Darfur to help refugees from the genocide.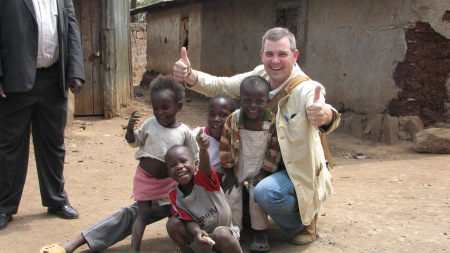 And we also want to congratulate all the nominees. They are all examples of great men. It was a truly a pleasure reading about you all and it gives us hope that there are still men out there who give manliness a good name. For their awesome examples of manliness they'll be receiving a gift basket filled with Old Spice products.
We'd also like to take the time to thank Old Spice for providing the prizes. We really appreciate their generosity.
I'd also to thank Eric Granata for designing the awesome banners that we used throughout the contest. If you're looking for design work, check out his site.
Last updated: October 21, 2010