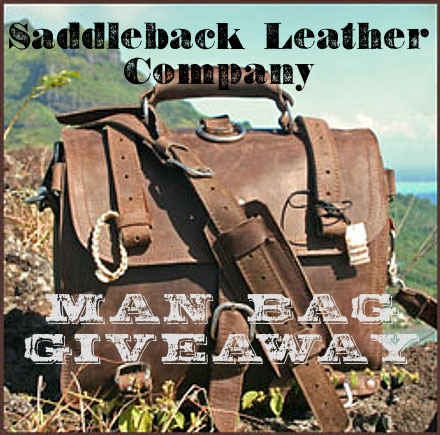 For centuries, men have used bags to carry their stuff. Cavemen used manly leather satchels to hold all their caveman gear. Peasants used them to carry seeds. During colonial times and up and through the Civil War, a soldier would always have a trusty man bag to carry his rations and other manly accouterments. But then something happened to this manly tradition. Men's pants started being made with pockets, men began transferring the contents of their bags to them, and the demise of the man bag soon followed. Women's dresses lacked pockets, of course, and so carrying a bag began to be seen as the exclusive domain of ladies.
The modern man has too much crap to carry around in his pockets- wallet, change, keys, cell phone, pocket knife, moleskine. The list goes on. And yet he steadfastly refuses to invest in a trusty bag, preferring to haul all this stuff in increasingly lumpy, bumpy, uncomfortable and difficult to access pockets.
And some men take their paranoia about bags to another level; they don't own anything smaller than a suitcase. These men have made the transition from college student to business professional, and yet they tote around their stuff in a backpack or attempt to carry all their possessions in their arms. When they stay overnight with a friend, they bring over a change of clothes in a grocery bag.
Thankfully, a classy briefcase has never gone out of style, and even the man bag is making a comeback. We're not talking about the European caryall or "murse" as made famous by Jerry Seinfeld. You're just going to get funny looks if you carry something like that. The key to pulling off the man bag is that it needs to look manly. Really manly. And there's nothing manlier than the bags and briefcases at Saddleback Leather Company.
And as luck would have it, we're giving away a manly Saddleback leather bag to a lucky Art of Manliness reader. Find out how you can get your hands on one.
The Prize
As you know, the Art of Manliness has had some swell giveaways in the past. But gentleman, this is unequivocally the best damn giveaway we've ever done. You have your choice of any of the following Saddleback Leather products: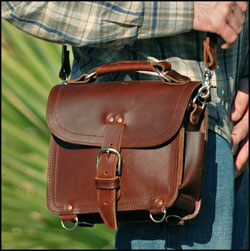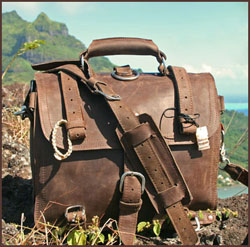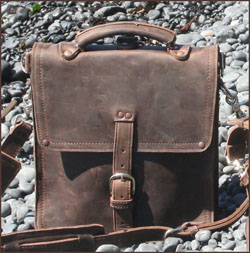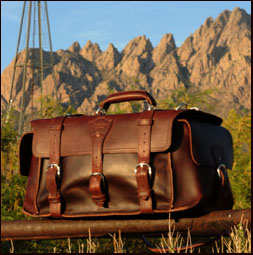 All Saddleback bags are handcrafted from the finest leather. They're made without any of the crappy zippers, snaps, and buttons that break on other bags. They carry a 100 year warranty. They're the manliest bags in the land. They're the sorts of bags that your grandkids will covet while you're alive and fight over when you're dead. And one could be yours.
How to Enter
So how can you get your hands on this awesomely manly prize? You have 3 ways to enter your name in a random drawing for a Saddleback man bag:
Leave a comment under this post sharing your best packing tip, travel advice, or musing about man bags.

Sign up for email or RSS updates. A secret code will appear at the bottom of the RSS feed or email update. If you sign up for the email subscription, your email won't arrive immediately, be patient; it will come. Email us what the secret code is through our contact form and you'll be entered. Can't find the code? Look for it right above the link to "Download the AoM Cookbook."
Share this post with your friends using the Email this post to a friend link at the top of the page (You have to use this link or I can't see if you shared the post). For each friend you email this post to, you'll receive one entry in the contest. This means the more friends you share it with, the more entries you get. You can only send 10 at a time, but feel free to come back and send some more.
Remember, you can increase your chances of winning by doing all of the above, so get cracking gents. And ladies (we know you're out there) feel free to enter as well.
Deadline to enter is Monday December 22, 2008 at 11PM Central Standard Time.
But Wait! There's More!
Saddleback Leather is offering a 12% discount on the purchase of any Saddleback Leather product just for entering! At the end of the contest, I'll email all the participants a code that can be used in the Saddleback Leather store. So even if you don't walk away with the free bag, you can still get a hefty discount on the purchase of one of your own. What better way to spend your Christmas cash than on a manly man bag.
Last updated: October 31, 2013