This week went by fast. I finished three law school finals and have one left in Federal Indian law on Monday evening. I can't wait to be done so I can enjoy a few weeks of freedom. Alright, so tomorrow is the last day for voting for the Art of Manliness Man of the Year Award. If you haven't already, make sure to vote. We have lots of a great nominees so make sure to read their bios.
Also, I want to remind you all to enter the West Coast Shaving Set Giveaway. To see how you can enter, see the post. Deadline to enter is Monday, December 15.
Now for some links:
Men Try to Master Shaving the Old Way in Manhattan (@ nytimes) If I owned a barber shop, I would totally do this. A barber shop in Manhattan offers a class on how to shave with a straight razor. If you're ever in the westside of Manhattan, drop by the Freemans Sporting Club barbershop and take the class.
Fifteen Tactics for Maximizing Your Investment in Reading for Personal Growth (@ the simple dollar) Great post on how to get started on reading great literature and philosophy for personal development. If you're looking for a list of books to get started with, check out the Men's Essential Library.
Lay Low to Avoid Being Laid Off: Don't Be These 6 Guys (@ primer) Many of you might be worried about your job in this current economy. Primer offers some tips on how to avoid being laid off.
Stephen Murray My wife and I were watching RealSports yesterday, and they had a piece about pro BMX rider Stephen Murray who tragically became paralyzed during an event. It was pretty sad. His wife left him, but didn't take the kids. So, Stephen faces the daunting challenge of raising two boys as a quadriplegic single dad. But you know what? He's doing it. The man has incredible drive and has made great strides in recovering from his accident. One of the things that impressed us the most was how Stephen's friends have rallied around him. They've all pitched in to help Stephen make it through the day and help take care of his sons. Man friendships can be powerful.
Become an Evangelist of Manliness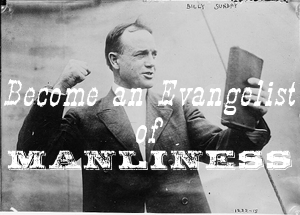 Spread the good word of manliness by becoming an ordained evangelist of manliness today.
Last updated: March 19, 2017