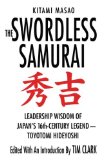 Yesterday, Tim Clark wrote a fantastic guest post on the 8 Virtues of the Samurai. In the post, Tim discussed the history of Hideyoshi, a peasant who rose through the ranks of the samurai and became the supreme ruler in Japan during the 16th century. Unlike his contemporaries, Hideyoshi sought to overcome his adversaries peaceably, through negotiation and alliance building rather than through brute force. Lacking physical strength and fighting skills, he naturally chose to rely on wits rather than weapons, on strategy over swords. Hyedoshi became the swordless samurai. In his latest book, The Swordless Samurai: Leadership Wisdom of Japan's Sixteenth-Century Legend—Toyotomi Hideyoshi
, Tim shows readers the leadership lessons Hideyoshi left behind. While the wisdom of Hideyoshi is nearly 500 years old, it's just as applicable today.
We're giving away three copies of Tim's latest book, The Swordless Samurai
, to a three lucky Art of Manliness readers. Want to know how you can win? Read on.
How to Enter
One of the main themes in The Swordless Samurai is using negotiation instead of brute force to get what you want. Negotiating with the goal of arriving at a win-win conclusion is a difficult task. So we want to hear your tips and advice on how to gain influence in business and in life through negotiation and persuasion. Have a technique you'd like to share? What's your philosophy in approaching a negotiation? Have an experience you'd like to share where you were able to use persuasion to arrive at a win/win resolution? Leave a comment sharing your best advice and experiences and you'll be entered to win.

Deadline to enter is Monday, September 22 at 10PM Central Standard Time.
We'll randomly select three comments and give the book to those three lucky individuals.
We're looking forward to reading your tips!
Last updated: September 22, 2015