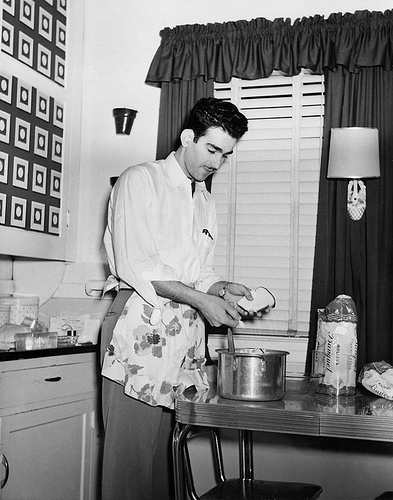 A few weeks ago we asked you all if cooking was manly. The answer was clear. Yes, cooking is manly. Very manly in fact. An astounding 1,957 of you said yes, while only 88 said no. Many of you in your comments discussed some of the food you like to prepare. Grilling and cooking breakfast seemed to be popular meals to prepare among men.
While I was reading the comments, I thought it would be cool if we could compile all the Art of Manliness readers' favorite man recipes into an ebook that we could all enjoy. I'll admit my cooking repertoire is limited to pancakes, eggs, and grilling meat. But even my meat grilling ability is bland because I don't know too much about seasoning or marinades.
So I propose a group writing project wherein we create an Art of Manliness Man Cookbook.
How it works
Submit your recipes. If you have a recipe you'd like to share, send it to artofmanliness at gmail.com. We're looking for any and every kind of recipe. BBQ, breakfast, fish, wild game, drinks, holiday food, deserts, dutch oven, camp food. . . you get the idea. The more variety the better. Please include a list of ingredients needed for the item and detailed instructions on how to prepare it. We want to credit who submitted the recipe, so please include your name and your location. (State or country is just fine). Deadline to submit is Friday,  September 29.
I'll create the FREE ebook. After we get all the recipes, I'll format them into a nice ebook that will be available to download for free so we can start whipping up culinary masterpieces in our kitchens and out on the grill.
I'll draw a winner. For every recipe you submit, your name will be submitted into a drawing for a $25 gift certificate to Amazon.com. We'll be giving away two cards. The more recipes you provide, the better the chance you have to win the gift certificate.
I'm looking forward to your submissions! Bon appetite!
Last updated: September 18, 2015