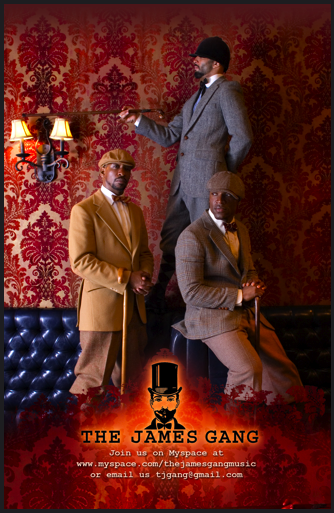 Last week I was flipping through the channels and landed on America's Got Talent. I normally don't watch drivel like this, but a group that performed caught my eye. They're called The James Gang. The best way to describe them is hip-hop mashed with swing. It sounds corny, but these guys pull it off. Besides writing killer music, these gents know how to dress in old fashion duds that still have the charm.  To top it off, their logo is awesome. Very reminiscent of The Art of Manliness' John L. Sullivan logo. Check out their MySpace page and listen to some tunes. It's time well spent. Here's their performance on America's Got Talent:
Now for some links.
First, make sure to check out The Manival # 12 at Miserere. Lots of great posts on how to be a better man. If you'd like to submit to next week's Manival, please submit using this form. Many thanks to Alessandro for hosting.
The List to Beat All Lists: Top 20 Productivity Lists to Rock You Tasks (@zen habits) I'm always looking to be more productive so I can get things done. But I'll admit that lately, I've been failing at my goal to be productive. Looks like there are some good posts on this list to help me get back on the productivity wagon.
Man Up: Tuck Your Kids into Bed (@ simple marriage project) Bedtime is the perfect time for fathers to bond with their children. Dr. Corey Allen offers some tips on how fathers can get the most out of the time spent tucking in your kiddos.
100 Things To Do During a Money Free Weekend (@ the simple dollar) Trent at The Simple Dollar has compiled a massive list of things you can do during the weekend that don't cost a dime. I'll be downloading some podcsts (#5) to my MP3 player so I have something to listen to while rowing. I'll also be attending the zoo for free (#22) tonight with my law firm.
Detaching From Material Possessions As a Sign of Emotional and Financial Security (@ frugal dad) Sometimes we forget that stuff is. . . well, stuff. Why do we get all hyped up for new gizzmos and dodads? If buying a brand new iPhone made you the happiest you've been in a while, maybe you have other problems you need to sort out.
Mama's Don't Let Your Sons Watch HGTV. They'll Never Get Married (@ rachel lucas) There is a lot of man hating on television these days. Watch any commercial or sitcom and the man is usually portrayed as a dope or a twit. Well, men even get a bad rap on HGTV. Rachel Lucus explains her disgust at the way wives treat their husbands on the various house hunting shows on HGTV. Check it out. It's a good read.
From the archives
Every Man Should Do This Exercise Routine Every Day
How To Throw a Dynamite Overhand Punch
Increase Your Manly Confidence Overnight
Last updated: April 16, 2014