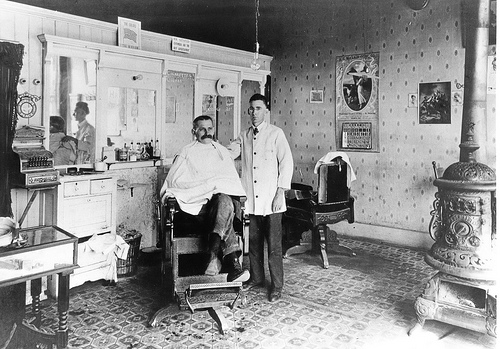 Photo by Alan C.
For the past few months, I've been looking for a barber shop to go to. Sadly, barber shops have been on the decline in the United States. Barber shops used to be a place where a man could get a sharp haircut, a clean shave and decent conversation. Because of the disappearance of barber shops men have been forced to get their haircut at salon's by cosmetologists whose training is geared towards cutting women's hair. Every time I've gone to a place like this, I've always walked away with a bad haircut.
Thankfully, I found a barber shop here in town. Monty's the barber I had. Barbering has been a family tradition in Monty's family for three generations. Everything Monty knows, he learned from his grandfather. The experience was great. I shot the breeze with the other barbers and the other clients in the shop and I got an awesome haircut. What I liked most about the cut was he used hot lather and a single blade razor to clean up the area on my neck and around my ears. Pretty damn smooth. Monty does hot lather shaves with the single blade razor as well. I'll be going back soon to get that done.
Now for some links.
Advent of the Mustache. Mustaches are back. Get in touch with your inner Burt Reynolds. (@ msn men)
The Fitness and State of Mind of a Royal Marines Commando. The Royal Marines are hard core. This guide provides you with an awesome guide on how to workout like them. (@ just a guy thing)
Living Indubiously. This site is authored by two brothers with cystic fibrosis. These guys aren't having pitty parties about the cards they've been dealt. They're taking life by the horns and kicking its ass. Much like Teddy Roosevelt, they haven't let their sickness get them down through grit and hard work. If you need some inspiration to get off your butt and do something with your life, check this site out. (@ living indubiously)
The Choice-Minimal Lifestyle: 6 Formulas for More Output and Less Overwhelm. Simplicity is a manly virtue. Plato, Emerson, and the Spartans all preached simplicity as the best way to develop manliness. This post from Tim Ferris is all about it simplifying so you can accomplish more. (@ the four hour work week)

Working Smarter, No Matter Your Income Level or Economic Situation. Hard work is necessary but not sufficient to get ahead in life. You also have to work smart. Trent from the Simple Dollar has given a great write up on what you can do to work smarter and get ahead in life. (@ the simple dollar)

What should I tell my children if they were to ask me 'How to choose the right spouse?" Choosing a spouse is probably the most important decision you'll ever make. I'm blessed enough to have an awesome wife. Seriously, I don't know where I would be with out her. Read this post for some great advice on choosing a spouse. (@ father sez)

Love and Care of the GREAT KILT Kilts are manly. Ever see Braveheart?
Here's a how to guide on how to put on a kilt and how to take care of it.

Last updated: May 27, 2008